Baltic Cash Cow Delivers a Second Crisis to Sweden's Oldest Bank
(Bloomberg) -- The Baltics have been a roller-coaster ride for Swedbank AB.
After expanding into the region following the Soviet Union's fall, Swedbank's business there became a cash cow. Then the global financial crisis hit and Sweden's biggest mortgage bank teetered under the weight of credit losses in Estonia, Latvia and Lithuania. But the bank stayed and in the following years transformed itself into one of Europe's most profitable and well-capitalized banks, a darling among investors and analysts.
Then Swedish broadcaster SVT dropped a bomb.
In the period between 2007 and 2015, SVT alleged last month that some 50 customers of Swedbank made almost $6 billion in suspicious transactions that linked the Swedish lender to the $230 billion Estonian laundering scandal that's engulfed Danske Bank A/S.
The question now is how much Swedbank's success story in recent years will count as investors question its money-laundering defenses and its handling of the allegations, which appeared to contradict earlier claims by the bank that it had managed to steer clear of suspicious Danske clients.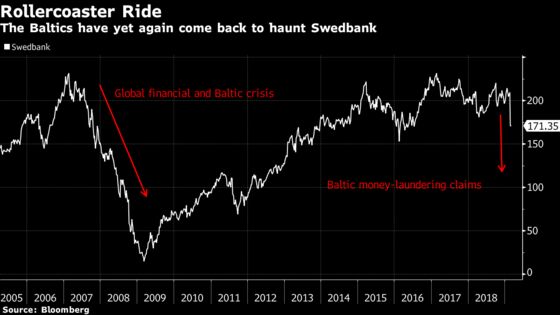 Swedbank's shares have already slumped by a fifth since SVT's report on Feb. 20 as investors, scared that the bank may face a future as turbulent as Danske's has been, sold the stock. The sudden plunge has in itself had ramifications, driving away some investors unwilling to chance further losses.
"We're investing in low-volatile stocks," said Daniel Karlgren, a portfolio manager at Stockholm-based Captor Investment Management AB, which is removing Swedbank from its Nordic equity fund Scilla. "And stocks tend to be more volatile when things like this happens."
Swedbank shares haven't gotten hit this hard since 2009, when swelling loan losses in the Baltics led to a net loss of 10.5 billion kronor ($1.14 billion) and a negative return on equity of 12.5 percent.
That year the bank got itself a new chief executive officer. Under Michael Wolf, Swedbank cleaned up the soured Baltic loans, built capital and reduced risk. But suspicions of insider trading (of which he was later cleared) and questionable real estate deals under his watch led to his ouster in early 2016.
Since then, CEO Birgitte Bonnesen has worked on extending the bank's recovery, cutting costs and driving up productivity.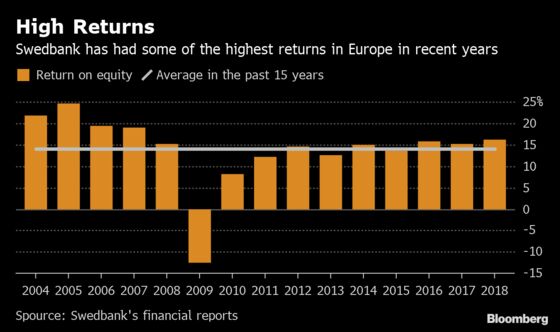 Swedbank has been the most cost-efficient Swedish bank for several years now and the one with the best return on equity. But that may offer little comfort to investors worried about the laundering allegations.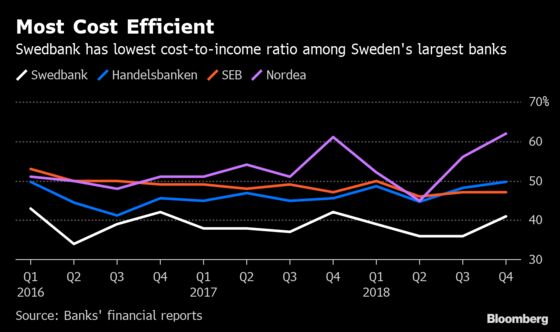 "Swedbank had a pretty high valuation since the bank was considered the safe choice in the sector," said Frida Bratt, a savings adviser at online broker Nordnet. "Many investors got burned in the Danske Bank scandal, which makes them very worried that they could get burned again."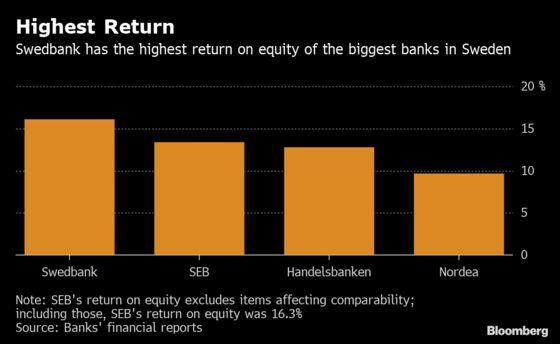 Bonnesen's handling of the case hasn't done much to ease investor concerns. She offered little new information when fielding questions in a teleconference last month. Investors have called on the bank to report all details on the case to the market. Meanwhile, Swedish media is rife with speculation that Bonnesen may not last as CEO, particularly since she was head of the Baltic unit between 2011 and 2014.
The allegations have led analysts to trim expectations of where the stock will trade in 12 months while largely retaining their stock recommendations. Three quarters of analysts still recommend either buying or holding the shares.