Balmy New York Sends Power Prices Diving Days After Polar Vortex
(Bloomberg) -- What a difference a few days makes.
The warmest weather to hit New York City this year has sent power demand and prices plummeting to levels that more closely resemble a holiday or a sleepy Sunday than a regular Tuesday. Central Park was forecast to reach 59 degrees Fahrenheit (15 Celsius) Tuesday, 19 degrees higher than the February average, according to The Weather Channel.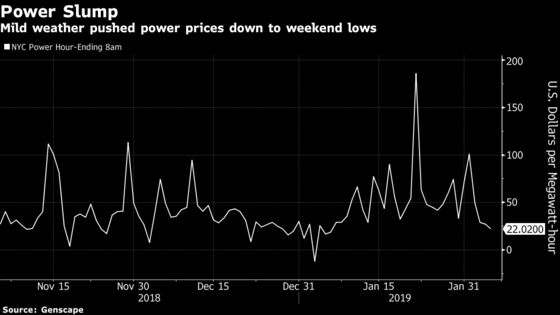 Wholesale electricity prices on the portion of the power grid that includes the city and Westchester County sank 19 percent to $22.02 a megawatt-hour Tuesday morning, according to Genscape data. That's the lowest level for the hour ending at 8 a.m. since Jan. 6 -- a Sunday -- and 33 percent below the average for the past year. During last week's polar vortex, power at the same hour on Friday jumped to $100.76 a megawatt-hour.
Electricity demand for the hour sank 5.5 percent from Monday to 5.6 gigawatts.