Balkan State's NATO Green Light Raises Hope for Investment
(Bloomberg) -- NATO states signed off on membership for the Republic of Macedonia, a move the Balkan country hopes will boost living standards after a decade of stagnation.
Ambassadors from the alliance's 29 members approved the accession protocol for the nation soon to be called North Macedonia on Wednesday, allowing the former Yugoslav state to attend meetings before formal membership. At the center of a struggle for influence between Russia and the West, the country of 2 million is one of Europe's poorest, with output per-capita stuck at just over a third of the European Union's for the last decade and a fifth of the population unemployed.
"We'll never walk alone again," Foreign Minister Nikola Dimitrov said in Brussels. "A country is as strong as the number of friends it has. As of today, my nation is really strong."
Following a pact with Greece, which agreed to stop blocking its neighbor's bids to join the North Atlantic Treaty Organization and the European Union over the name, the former Yugoslav republic is now expecting an inflow of investment, central bank Governor Anita Angelovska Bezhoska said.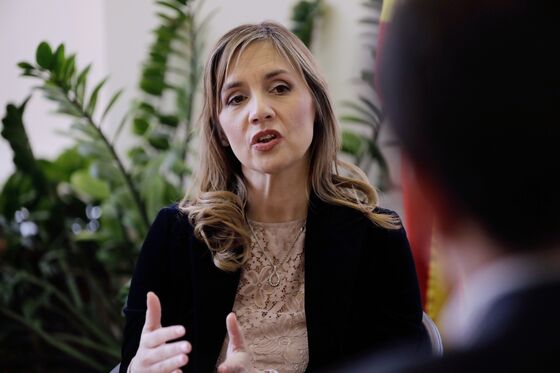 "When we look at the experiences of other economies that have gone through this process, it's clear that in NATO and in the years prior to NATO accession and EU accession, capital inflows in the region in particular countries significantly increased," she said in an interview.
Lawmakers in all NATO members must ratify the accession protocol for the Republic of Macedonia to follow its regional peers Montenegro, Albania and Croatia into the military club. Slovenia and Croatia are already in the EU, while Serbia, Albania and Montenegro have applied, with the first one expected to join sometime next decade.
Greece vetoed its northern neighbor's accession for years because it believed the name Macedonia should only apply to its northern province, the ancient home of Alexander the Great. It's one of the biggest foreign investors, with its companies controlling Macedonia's sole oil refinery and its second-biggest bank.
Angelovska Bezhoska said political stability will help attract other investors as well. Economic growth may reach 2.8 percent this year, an improvement over 0.2 percent in 2017, according to the International Monetary Fund.
"There's been quite a few years since we've been stuck in this process with the EU accession, unfortunately not because of economic reasons," Angelovska Bezhoska said. "Stronger prospects for EU and NATO integration would positively affect the risk premium for the economy, which of course is a very important determinant for investment."