Baidu Unveils AI Chip as It Revs Up Self-Driving Bus Production
(Bloomberg) -- Baidu Inc. has unveiled an artificial intelligence chip to run intensive computing in everything from datacenters to autonomous driving, as the Chinese search giant prepares to launch its first self-driving vehicles in Japan.
The AI chip -- dubbed "Kunlun" -- joins rival efforts from tech giants around the world, including local peers such as networking giant Huawei Technologies Co. The company said it can also be used in range of areas from natural language processing to search rankings.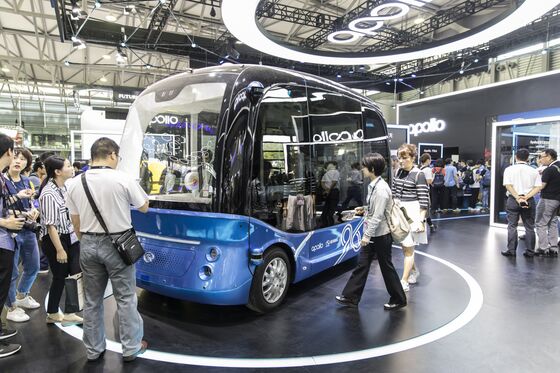 Baidu's also accelerated production of its Apolong fully self-driving bus, developed in tandem with local manufacturer King Long and the first product to emerge from its open Apollo platform. It intends to ship the first 14-seater mini-buses to Japan by early 2019 in partnership with a SoftBank Group Corp. subsidiary, Baidu said at its annual developers' conference. The Chinese company has cranked out 100 of the vehicles from its plant in southern China, it said in a statement.
The twin announcements come just months after the departure of Lu Qi, who joined Baidu in 2017 as Group President with a mandate to lead AI development. His abrupt exit threatened to disrupt Baidu's ambition of placing AI at the heart of its business and helped wiped out more than a 10th of the Chinese company's market value.