Baidu's Stronger-Than-Expected Outlook Validates AI Push
(Bloomberg) -- Baidu Inc. forecast sales that topped estimates as efforts by China's internet search leader to diversify into the cloud and artificial intelligence businesses start to pay off.
Revenue for the period ending in March will be 26 billion yuan ($4 billion) to 28.5 billion yuan, compared with the 25.9 billion yuan average estimate of analysts. Sales last quarter rose 4.8%, the fastest pace in 2020, fueled by a 52% increase in its non-advertising businesses like AI cloud.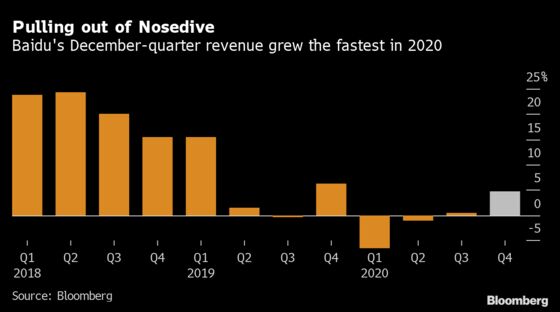 Once one of China's big three technology titans alongside Alibaba Group Holding Ltd. and Tencent Holdings Ltd., Baidu is playing catch up as the country's internet users increasingly shift from desktop to mobile. With up-and-coming rivals like TikTok owner ByteDance Ltd. taking a larger share of China's online advertising market, the company is instead repositioning itself as an AI tech provider with mature use cases.
"Our long-term commitment in technology research has made Baidu a leading AI ecology company," founder Robin Li said after the earnings report, according to an internal memo viewed by Bloomberg News. He said Baidu's core R&D investment was equivalent to around a fifth of its 2020 revenue.
Shares of Baidu have surged nearly threefold from their March lows as China's rebound from the pandemic drove ad spending and the company took steps to monetize its suite of AI technologies. The stock gained more than 3% in after-hours trading.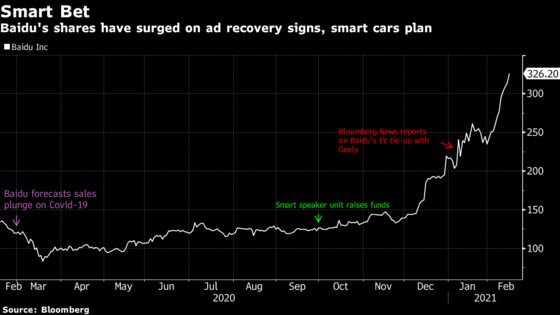 The internet giant has over the years sunk billions of dollars into areas from language learning to voice interaction and autonomous driving, betting on smart devices and vehicles of the future. Now, aided by years of investment and Beijing's bid to build smart nationwide infrastructure, these efforts are finally paying off. In January, the company announced it's teaming up with Zhejiang Geely Holding Group to produce smart electric vehicles, prompting analysts to hike their value estimates for Baidu's self-driving unit Apollo.
Executives told analysts on a call Thursday that Baidu's Apollo-powered software will help differentiate its EV from rivals. The venture with Geely already has a chief executive officer on board and has picked the brand of the vehicle, which will take three years to deliver, Li said.

"For EV, AI, they are not stories anymore," said Tian X Hou, founder of research firm TH Capital. "They are real and have already started to monetize."

With its AI applications still in the early stages and R&D investments likely to keep compressing margins, Baidu has sought external capital to bankroll its expansion. Last year, the company's smart speaker division received its first independent financing round at a $2.9 billion value. It has recently reached out to investors including IDG Capital and GGV Capital to raise funds for its AI chips unit ahead of a potential spinoff of the business, people familiar with the matter have said.
Revenue from Baidu's Netflix-style platform iQiyi Inc. fell 0.5% in the period ended December, a second consecutive quarter of declines as Chinese internet users shifted to other social media services like ByteDance's Douyin. Sales this quarter may drop as much as 8%, the company said.
Baidu apps accounted for 8% of Chinese users' time spent in December, half that of ByteDance's 16% share, according to researcher QuestMobile. To compete, its flagship search app is morphing into an all-encompassing social platform not unlike Tencent's WeChat, and the company is close to completing its $3.6 billion acquisition of Joyy Inc.'s YY live-streaming network.
"We should be concerned that online marketing growth remains weak, because this is Baidu's most profitable revenue stream," said Bloomberg Intelligence senior analyst Vey-Sern Ling. "Non-marketing businesses like hardware and cloud may drive sales growth but will do little for profits. The same is true for newer initiatives like electric vehicles."