Bahrain Credit Risk Falls to Five-Month Low on Relief Over Aid
(Bloomberg) -- Bahrain's credit risk declined to the lowest level in five months on optimism the nation's neighbors will soon come to the island-state's rescue with an aid package.
The cost of insuring Bahrain's debt against default fell 34 basis points last week on relief that Saudi Arabia, the United Arab Emirates and Kuwait were said to be considering a $10 billion plan. The contracts closed at 307 basis points on Friday, the lowest since May and about half the level in June, when concern over the country's finances spurred a sell-off of Bahraini assets.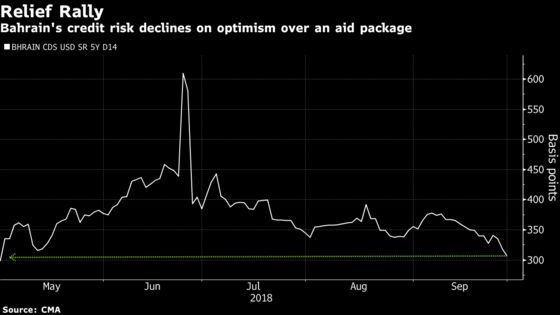 Unlike its neighbors, Bahrain, the smallest economy in the oil-rich Gulf Cooperation Council, has been slow to implement fiscal reforms to cope with oil prices that are well below what the nation needs to balance its budget. The government had been relying on bond offerings to boost its foreign-currency reserves before sentiment turned against risky assets earlier this year.
Authorities scrapped a bond sale in March after investors sought higher yields, but raised $1 billion from Islamic securities.