BAE Shares Drop as Saudi Arms Deals Hit by German Export Ban
(Bloomberg) -- BAE Systems Plc fell the most since Britain voted to quit the European Union after saying German limits on arms exports to Saudi Arabia following the murder of Jamal Khashoggi threaten its ability to do business in the kingdom.
BAE, which counts Germany as a partner on the Eurofighter jet for which it's chasing a big Saudi order, is working with the British government to minimize the embargo's impact on earnings and relationships, it said Thursday.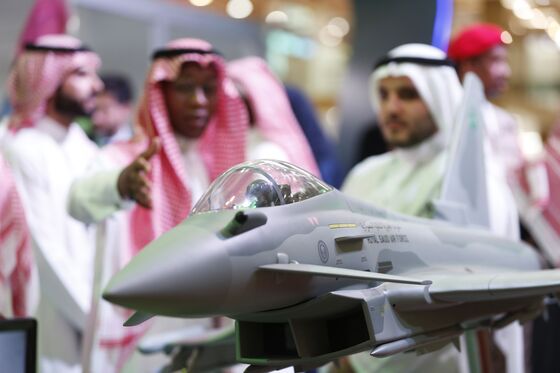 "The company is reliant on the approval of export licences by a number of governments in order to continue supplies to Saudi Arabia," the London-based company said. Germany's current position on export licensing "may affect the group's ability to provide the required capability."
The fallout from the killing of Khashoggi last October comes at a challenging time for BAE, Europe's biggest defense supplier. Saudi Arabia is the top export customer for the Eurofighter, and while BAE's current deliveries have been completed, it's at a critical stage of talks on turning a follow-on deal for 48 of the jets into a firm order. Germany suspended approvals for weapons sales to the oil-rich state after the journalist's death at the Saudi consulate in Istanbul.
BAE shares fell as much as 7.1 percent in London, the biggest drop since June 24, 2016, the day after the Brexit vote. They were trading 6.4 percent lower at 472.3 pence as of 9:54 a.m. The stock has gained 3 percent this year, valuing the company at 15.1 billion pounds ($20 billion). Guidance for the full year is based on a "business as usual scenario," it said.
Chief Executive Officer Charles Woodburn said on a conference call that industrial partners including Airbus SE are equally concerned about the German restrictions. BAE has been adapting its supply chain to minimize the impact of the ban, and is not facing a "cliff-edge" scenario regarding exports, he said.
Airbus's German arm has a 30 percent workshare on the Eurofighter, while Munich-based MTU Aero Engines AG helps make the aircraft's Eurojet powerplant. BAE also supplies Saudi Arabia with Hawk jet trainers, and the German ban affects its ability to provide parts for those planes, as well as the Typhoon and older Tornado ground-attack jets.
Rheinmetall AG has an order for trucks to be exported to Saudi Arabia that has been on hold since the ban came into effect last fall, spokesman Peter Ruecker said. The company is seeking a solution with the German government, he said.
The Saudi war in Yemen means some of those aircraft are seeing high levels of utilization, and require replacement parts and services. MTU CEO Reiner Winkler said on a conference call Wednesday that its sale of those items for the Tornado and Eurofighter to Saudi Arabia is allowed under German policy and won't be affected.
BAE's contracts with Saudi Arabia are structured as government-to-government transactions, meaning a resolution needs to be pursued at a political level, the CEO added. U.K. Foreign Secretary Jeremy Hunt has written to his German counterpart warning that the curbs threaten Europe's ability to fulfill its North Atlantic Treaty Organization commitments, Der Spiegel magazine has reported.
German Economy Minister Peter Altmaier said in October that the government wouldn't approve any new arms exports to Saudi Arabia until it received a "satisfactory" explanation for Khashoggi's death. That policy is still in effect.
BAE has also been hit by cost growth from the Royal Navy's aircraft-carrier program, leading it to downgrade profit expectations on the contract, while quality-control issues affecting offshore patrol vessels led it to book a 47 million-pound loss provision.
Operating profit increased 13 percent last year and order backlog swelled to a record 48.4 billion pounds at the end of the year. New business included Canadian frigate orders, an Australian submarine contract and deal for armored vehicles from the U.S.