Backlash Prompts Trump to Backpedal - Sort Of
Faced with a firestorm of criticism from fellow Republicans, the U.S. president sought to publicly clarify remarks he made on Monday in Helsinki, where he accepted Vladimir Putin's denial that Moscow interfered in the 2016 election.
But Trump — whose retreat followed a meeting with Vice President Mike Pence and Secretary of State Michael Pompeo — would only go so far. The president said he misspoke with a single word, and that he accepted the U.S. intelligence community's finding of Russian election meddling. But he then immediately undercut that account, looking up from a prepared text to add: "Could be other people also. A lot of people out there."
Trump didn't back down from his savaging of Special Counsel Robert Mueller's investigation of Russian election meddling, nor from comments blaming U.S. "foolishness and stupidity" for the deterioration of relations between Washington and Moscow. And he expressed fresh confidence this morning in his Helsinki performance, tweeting that "so many people at the higher ends of intelligence loved" it.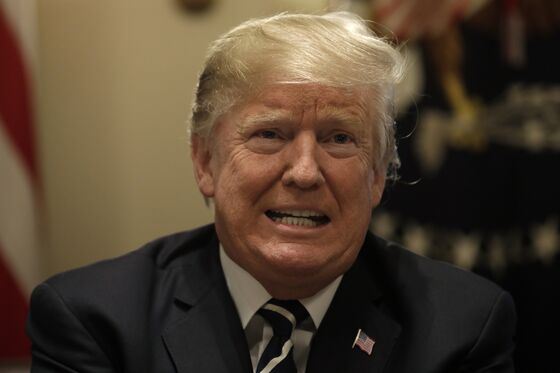 Uranium under scrutiny | The Trump administration plans to open an investigation into whether uranium imports are harming national security. The move — the latest chapter in Trump's protectionist turn — could lead to tariffs on foreign shipments of the metal. U.S. industry wants the government to shield it from competition with state-owned companies in Russia, Kazakhstan and elsewhere, Bloomberg exclusively reports.
Narrow escape | U.K. Prime Minister Theresa May won a vote on her key Brexit legislation by the skin of her teeth, but she paid a heavy price, with every major vote now much harder for her to win. It leaves rival Boris Johnson free to signal his intent to challenge her. He's expected to give a "resignation speech" today after stepping down as foreign secretary last week in protest against her Brexit plan.
Outlook cloudy | Democrats say Supreme Court nominee Brett Kavanaugh's own words show he would shield Trump from Mueller's inquiry. As Greg Stohr writes, the reality is more complicated. While Democrats are focusing on the nominee's suggestion in a 2009 article that sitting presidents should be shielded from criminal proceedings, there's little else in Kavanaugh's record to suggest how he would come down on inquiry-related questions.
China's Africa advance | After establishing itself as a top investor throughout much of Africa, China is now going head-to-head against France in that country's former colonies in the continent's west. As Pauline Bax and Olivier Monnier report, Chinese companies are winning deals on everything from construction projects to pay-TV in the area's biggest economy — Ivory Coast. President Xi Jinping makes his first-ever visit to nearby Senegal on Saturday.
Pulling a fast one | Poland's ruling party will start the fast-track approval of a bill meant to pre-empt potential punishment from the European Union over the most dramatic judicial revamp in the bloc's former communist east. The government has repeatedly outmaneuvered Brussels by increasing its influence over courts, which the EU and democracy advocates say breaches rule-of-law standards and may fuel corruption.
In a sign of Trump's enduring popularity in conservative areas of the U.S., Republican Representative Martha Roby won her Alabama primary runoff election last night with the president's endorsement, defeating a challenger who tried to capitalize on her rejection of Trump in 2016.
With midterms approaching, the Republican-led U.S. House votes today on a resolution supporting the federal government's immigration-enforcement arm, a move designed to exploit Democratic divisions over calls to abolish the agency that's heading Trump's border crackdown.
And finally ... Trump has a plan to telegraph American strength to the rest of the globe. And it involves a revamp of John F. Kennedy's now iconic baby blue color scheme for Air Force One. "It's going be red, white and blue, which I think is appropriate," Trump told CBS News yesterday. Former First Lady Jacqueline Kennedy was closely involved in the plane's current design, which includes outside lettering inspired by the heading of the U.S. Declaration of Independence and cabin glassware from Tiffany.