In New Season of 'Billions,' Axelrod Battles an Altruistic Rival
(Bloomberg) -- (The following contains spoilers for "Billions" season five.)
How would Bobby Axelrod fare during a pandemic?
Since the life of the "Billions" character usually mirrors that of real hedge fund managers, he'd likely find a way to make a ton of money. And it's fun to guess who'd he hunker down with. His kids? Wendy? Definitely his personal chef.
But not necessarily the housekeeper. One thing we know from last season's finale is that Bobby can make a bed.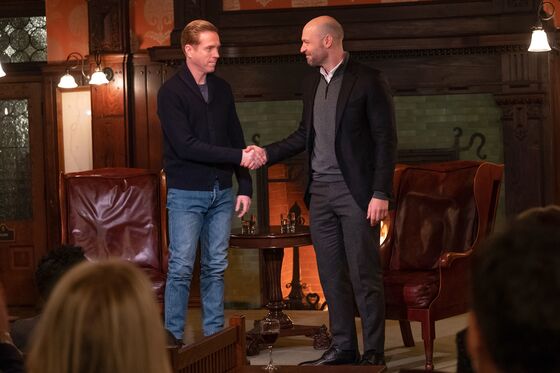 So we won't see Bobby or Chuck Rhoades wearing masks and gloves when the fifth season begins Sunday on Showtime. Seven episodes were filmed before coronavirus shut down production, with five more to air later.
That means a show that's always been a little behind the headlines is washed in nostalgia. Whether it's Bobby delivering a rousing speech about capitalism in a packed boarding school auditorium, or Axe Capital grunts gathering around the office goofball, we wonder when we'll be back to normal selves.
As we tune in on the same screens we've been watching the economy implode for weeks, it's hard not to watch with Covid-colored glasses. And it turns out these lenses enhance the viewing.
Bobby starts the new season with a corona beard just like those that real financiers have been showing off in Zoom poker games. He grew his on a spiritual journey far from Manhattan, but soon enough he's back -- with a trim and a shave -- to shake hands with his new arch rival Mike Prince, played by Corey Stoll.
The rivalry pits Axe the egoist against Prince the altruist. Their war of views isn't new, but takes on new import during a pandemic that has exacerbated inequality. Can we tolerate Axe's survival of the fittest ethos, or his contempt for the way Prince insists it should be all about taking care of others? Is it no more than posturing?
These are questions we must take back to our own kitchen tables -- and that will keep us watching.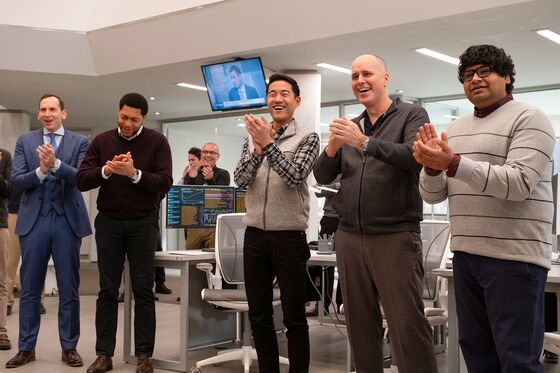 Had the pandemic not arrived, this season of "Billions" might have merely moved the action along, peppered with real-life titan fascinations of recent months, such as opportunity zones, Bitcoin mining and green investing. Back again are the fun cameos by athletes (like Irish wrestler Becky Lynch), chefs and people in finance, including David Solomon, the chief executive of Goldman Sachs.
We don't know if Solomon will appear deejaying at a charity event or on a panel at Davos (he's not in the four episodes provided by Showtime for advance press screening, nor would Showtime confirm whether the scene filmed in early March makes it into the show). But his presence may fit in with Bobby's newfound interest in becoming a banker -- a pretty outrageous break from his cultivated lone wolf, trader-gambler persona.
Ken Griffin made a go at an investment bank after his hedge fund took a beating in the 2008 financial crisis. So it's not unheard of. Still, can you imagine Bobby in a suit and tie? Since Solomon himself has loosened up his image, he could be credible as a friend or adviser.
"Billions" has had its share of Shakespearean moments, a credit to actor Damian Lewis and the show's writers. But Bobby waxing about banking is especially Shakespearean.
Why does he want to be a banker? His soliloquy on the subject is existential. Hint: It's not to get small businesses back on their feet. He's drawn to the security of it. How that character reversal plays out is a story for the ages, and certainly one for our times.