Avocados on Everything? Restaurants Capitalize on Rising Supply
(Bloomberg) -- The already-popular avocado is getting a turbo boost from higher supply and lower prices -- and restaurants are eager to cash in.
Starbucks Corp. has added avocado spread to its permanent menu in the U.S. and Canada after a successful test run last year, while Chili's Grill & Bar this month began selling a hamburger with the fruit. Even fast-food chains such as Wendy's Co. are joining in.
And at restaurants such as Chipotle Mexican Grill Inc., where avocados have always been a big deal, the lower prices may mean wider margins while prices remain low. About half of the company's orders include guacamole.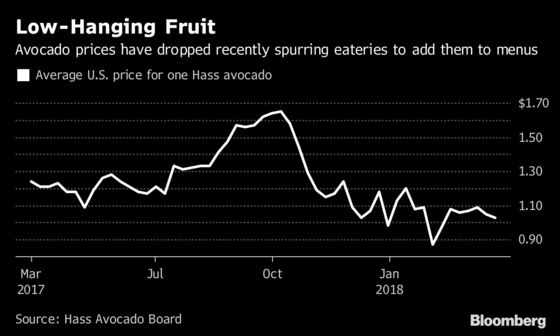 "It has a big impact when it goes up and down," Chief Financial Officer Jack Hartung said on a conference call last month, noting that the cost for a case had fallen to below $30 from nearly $80 during part of the fourth quarter. "So, they've come back to kind of normal prices."
In retail outlets, avocados cost an average $1.03 each at the end of March, compared to $1.24 during the same period last year, according to data from the Hass Avocado Board. Prices are falling as supply spikes: During the week of May 13, the U.S. market got a deluge of more than 60 million pounds of the fruit. That compares with about 47 million last year.
The market has been underpinned by ample supply from Mexico, the largest producer, and California, according to US Foods Holding Corp.'s May 18 farm report.
Avocados' popularity has broadened as more Americans strive to eat healthier and consume more fruits and vegetables. While the fruit is high in fat, most of it is of the unsaturated variety, which nutritionists say is beneficial. They're also a good source of fiber, and don't have any cholesterol.
Restaurants are acting quickly to take advantage of lower avocado prices and their rising popularity rising.
Last month, Wendy's added a southwest avocado chicken salad and sandwich to its lineup. Diners are digging the salad -- which the company offers for $6.69 -- even with 600 calories.
The offering "is a salad we're excited about that's clearly resonating with consumers right now," Chief Executive Officer Todd Penegor said earlier this month.