Avianca Seeks Approval for Plan That Cuts Airline's Debt by $3 Billion
(Bloomberg) -- Avianca Holdings SA asked a judge for permission to exit bankruptcy under a plan that the airline says will eliminate about $3 billion in debt and preserve over 10,000 jobs.  
Latin America's second-largest airline before the pandemic presented its restructuring plan at a hearing in New York Tuesday. If approved, the 102-year-old company is eyeing an exit from bankruptcy this year. U.S. Bankruptcy Judge Martin Glenn appeared to side with the company when a handful of objectors claimed the proposal wrongly favored some creditors over others.
Glenn asked the objecting creditors to file court papers by Thursday evening listing facts related to their complaints. He did not say when he would decide whether to approve the plan. 
The company said it plans to exit bankruptcy soon after winning final court approval. 
"We remain focused on moving forward with this process as efficiently as possible," Avianca said in an emailed statement.
Certain lenders and noteholders including United Airlines,  Kingsland Holdings, which is controlled by Salvadoran mogul Roberto Jose Kriete Avila, and Citadel LLC, the hedge fund founded by billionaire Ken Griffin, will get 72% of the airline's equity in exchange for canceling more than $900 million of debt, according to court papers.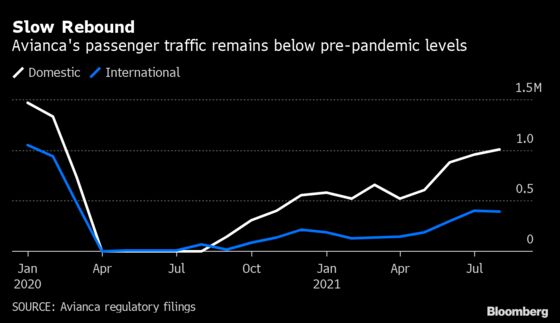 Avianca filed for Chapter 11 protection in May 2020, after Colombia and other Latin American governments sealed borders and restricted flights in an attempt to control the spread of the coronavirus. Air traffic has slowly rebounded, but remains below pre-pandemic levels, forcing the airline to reduce the number of passenger aircraft it operates from around 147 to below 100 last month, according to a company presentation. 
The company will be emerging from bankruptcy into a market still battered by the effects of the pandemic and government travel restrictions. Latin American carriers are projected to post cumulative losses of $5.6 billion this year and $3.7 billion in 2022, according to the International Air Transport Association. 
It plans to gradually add more destinations and aircraft, flying cost-efficient narrow-body planes with more seats to compete with low-cost carriers. Under an eight-year financial forecast it published in August, Avianca expects to post a pretax profit in 2023 and for net debt-to-Ebitda ratio to fall to 3.6 times from 5.1 times next year. 
Avianca is among the largest and oldest of the region's airlines, tracing its roots to 1919 when it was founded as SCAD. Avianca was bought out of bankruptcy in 2004 by German Efromovich, who rebuilt it but was forced out as chairman and lost control of Avianca in 2019 to United Airlines and Kingsland Holdings.   
Adrian Neuhauser, a former Credit Suisse executive, came in as part of a new management team that swiftly reached agreements with creditors to restructure debts. Early the following year, Avianca became the first of three major carriers to file for Chapter 11, followed by Latam Airlines and Grupo Aeromexico.  
The case is Avianca Inc., 20-11133, U.S. Bankruptcy Court for the Southern District of New York (Manhattan).