Autonomy Founder Lynch Arrested in U.S. Extradition Fight
(Bloomberg) -- Autonomy founder Mike Lynch, who's fighting U.S. charges that he orchestrated a massive fraud at his software firm, was arrested in London as authorities pushed forward with his extradition.
Lynch submitted himself for arrest and was granted conditional bail after being ordered to put up a 10 million-pound ($13 million) security, Westminster Magistrates Court staff said Wednesday. The U.S. Department of Justice alleges that Lynch made false statements to make his software firm more attractive to Hewlett-Packard Co., which acquired Autonomy for $11 billion in 2011. It wrote down the value by $8.8 billion just a year later.
"Dr. Lynch vigorously rejects all the allegations against him and is determined to continue to fight these charges," Lynch's lawyers said in a statement. He is next due in court on March 10 for a case management hearing.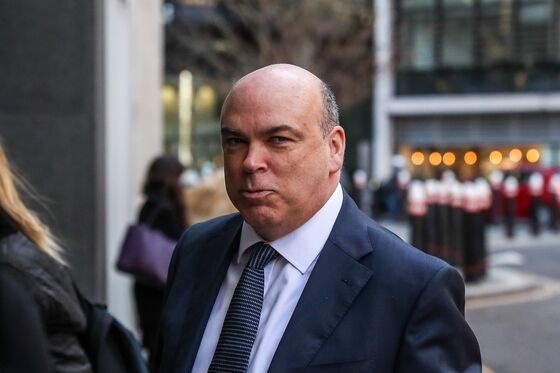 While facing the U.S. criminal charges of wire and securities fraud, Lynch has separately fought a $5 billion civil case against HP in London, which finished last month with the judge set to consider his verdict.
"The U.S. DOJ should not have commenced extradition proceedings prior to the judgment of the English High Court," the attorneys, Chris Morvillo and Reid Weingarten, said.
The U.S.-U.K. extradition agreement has come under scrutiny recently with the American government refusing to send back a diplomat's wife who allegedly killed a motorcycle rider while driving on the wrong side of the road near an American military site.
British lawmakers including David Davis said last month that the agreement is unequal and that the U.K. government should delay the extradition until the judgment in Lynch's London case was known.
The 10-month civil trial wrapped up with Lynch saying that HP spent tens of millions of dollars attempting to prove fraud but failed to tie the founder to any wrongdoing. His attorney argued that HP brought the case "out of buyer's remorse."
Lynch will fight the extradition based on the fact that the alleged offenses could have been tried in the U.K., Lynch's lawyer Alex Bailin said in court.
British prosecutors chose not to pursue their own investigation.
"These matters concern a British citizen, U.K.-based conduct, a U.K. listed Plc, culminating in a U.K. civil trial in which judgment is pending -- these matters unquestionably belong here in the U.K.," Bailin said. "The forum bar exists to provide real protection against this interventionist type of action."