Automakers Laud Resilience of U.S. Consumers Buoying Sales
(Bloomberg) -- General Motors Co. and Fiat Chrysler Automobiles NV heaped praise on U.S. consumers after their quarterly sales held up better than analysts expected and left dealerships with lean vehicle inventory.
Deliveries dropped 34% for GM and 39% for Fiat Chrysler, both better than projected. Although Toyota Motor Corp. narrowly missed estimates, its decline tempered toward the end of the quarter, with June sales falling 27%.
"This quarter demonstrated the resilience of the U.S. consumer," Jeff Kommor, head of U.S. sales for Fiat Chrysler, said in a statement. "Retail sales have been rebounding since April as the reopening of the economy, steady gas prices and access to low interest loans spur people to buy."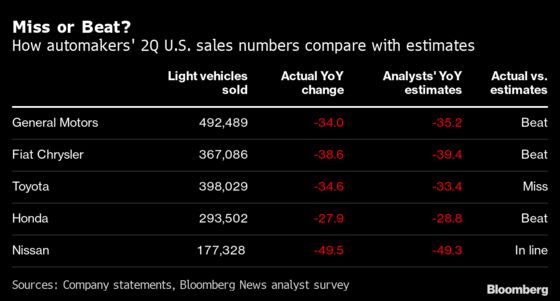 Automakers are overcoming a decimation of demand from rental-car companies that have sworn off purchases in the wake of the coronavirus outbreak that has hammered the travel industry. Retail sales actually jumped the last two months for Hyundai Motor Co. in an extreme example of how quickly consumers are returning to showrooms.
"We've learned a great deal in the past 90 days," said Randy Parker, U.S. sales chief for Hyundai, which in March reinstated a job-loss assurance incentive program. "It has given us the confidence to fight our way through the pandemic."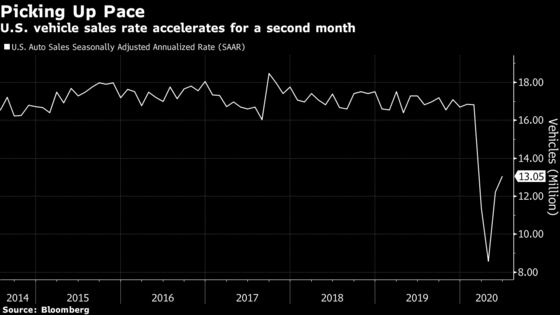 Hyundai is making as much as six months of payments for customers who buy or lease through its finance unit and lose their job. Ford Motor Co. has started a similar program, covering up to $15,000 of vehicle owners' remaining balance if they need to return their car or truck.
GM is beginning the second half of the year with tight inventory of pickups. Supplies were depleted by a 40-day labor strike in the second half of last year, and the automaker has run low again the last few months due to factory shutdowns related to Covid-19 containment measures.
The largest automaker by U.S. sales has raced to get production lines back to pre-virus levels even as it cautions there could be fresh setbacks ahead.
"We expect continued sales recovery as businesses ramp back up, but recognize that the path forward may not be linear," Elaine Buckberg, GM's chief economist, said in a statement. "Rising infections in many states may lead to steps backward in the reopening process."
GM shares dipped 1% as of 2 p.m. Wednesday in New York trading, while Fiat Chrysler was down 3.8%. Ford will publicly release sales results on Thursday.