Austria Won't Be Passive Investor in Key Companies, Loeger Says
(Bloomberg) -- Austria plans to take an active part in companies that are crucial for the country and will help form corporate strategy, Finance Minister Hartwig Loeger said.
"To act like an investor who just provides funds and then looks on -- that's not what we want," Loeger told reporters on Tuesday. "For companies that have important roles for Austria -- like energy or infrastructure -- we want the option to be actively involved if the supervisory board discusses strategic decisions."
Chancellor Sebastian Kurz's government has overhauled the vehicle managing its stakes in firms including Telekom Austria AG, OMV AG, Verbund AG and Oesterreichische Post AG and is installing new leadership at Oesterreichische Beteiligungs AG.
Loeger said that at Telekom Austria, for instance, the government would emphasize investments in Austrian infrastructure while keeping in mind that it's only a partial shareholder. Carlos Slim's America Movil SAB owns the majority of the phone operator.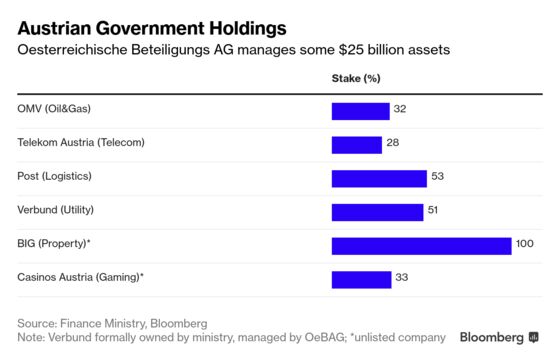 The finance chief said the conflict surrounding B&C Privatstiftung, a private trust that owns stakes in large Austrian industrial companies, hasn't helped Austria's reputation as a place to do business.
B&C, which owns stakes in fiber maker Lenzing AG, rubber maker Semperit AG and aluminum maker Amag Austria Metall AG, has been fighting for control with Italy's UniCredit SpA and investor Michael Tojner.
"B&C's companies are important for Austria," Loeger said. "We took note that there are investor interests to change things radically -- which we see critically."
Loeger said he hasn't been asked to help to resolve the situation so far. "Should the parties concerned see an approach, I wouldn't rule it out," he said. "At the moment, it's not an issue."