Australian Property Slump Deepens as Credit Squeeze Hits Buyers
(Bloomberg) -- Australia's property slump deepened in February, as stricter lending standards dry up the flow of credit to investors and home-buyers.
National housing prices declined 0.7 percent last month, and are now down 6.8 percent from their peak in October 2017, according to CoreLogic data released Friday.
Sydney and Melbourne, which led the way up, continue to lead the way down. Dwelling values in both cities fell 1 percent last month and Sydney prices are down 10.4 percent from a year earlier -- the first double-digit annual decline since the early 1980s.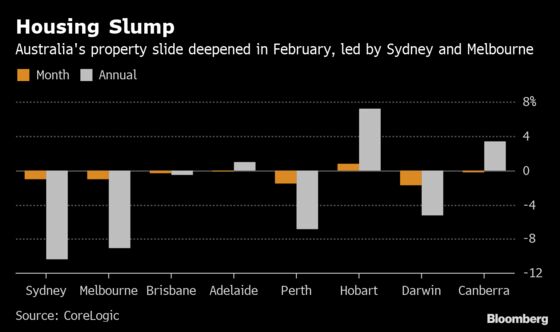 The long-running reduction in investor lending has hit the two biggest cities hardest, given investment activity was concentrated there. Now, a tightening of owner-occupier loans is spreading the slowdown across the nation, according to CoreLogic's head of research Tim Lawless.
In the wake of widespread scrutiny of lax lending standards during an inquiry into financial industry misconduct, banks are moving to a 'new normal' for mortgage lending, Lawless said. Closer scrutiny of people's expenses and ability to service a loan are reducing the maximum amount someone can borrow.
Other factors are helping drive down prices. Among them: increased supply, a build-up of houses on the market as properties take longer to sell, fewer foreign buyers and weak consumer sentiment.
ANZ Bank's Mortgage Book Shrinks After Lending Rules Tightened