Australian IPOs Head for Longest New-Year Lull Since 2009
(Bloomberg) -- Australia is on track for the slowest start for initial public offerings in more than a decade in a sign of continued investor caution.
As long as no first-time share sale is announced by Feb. 10, that would mark the longest new-year lull since 2009, according to data compiled by Bloomberg. Only four companies, which priced their share sales last year and raised a total of $29 million, started trading in Australia in 2020.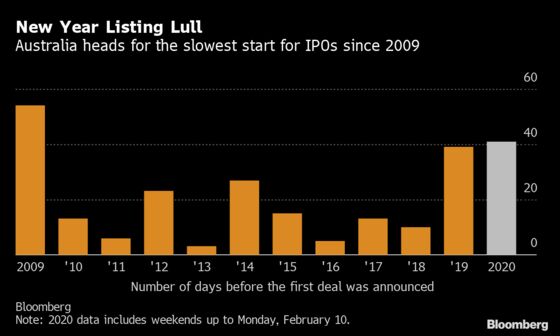 The soft start indicates that investor caution may have knocked on from last year, when about $1.5 billion of first-time share sales were withdrawn in Australia -- the most since 2008. Shelved debuts from a number of prominent listings as well as a large drop in new offerings from small cap companies, particularly in the materials sector, dragged the country's number of new listings to just 89 in 2019, below the average of 95 during the previous four years, data compiled by Bloomberg show.
"The pipeline doesn't look too good, it's fairly soft for the start of 2020," Marcus Ohm, a Perth-based partner at accounting firm HLB Mann Judd, said in an interview. "There seems to be less appetite to put money into speculative ventures."
Australian IPOs are also occurring later in a year. Companies raised about $1.4 billion in the first half of 2019, while the amount jumped to $3.3 billion in the last six months of the year, data compiled by Bloomberg show.
Alternative lender Pepper Group Ltd. recently held discussions with potential advisers about an IPO of its Australian arm, which could likely be among the first batch this year, according to a person familiar with the matter. A representative for Pepper declined to comment. The Australian Financial Review earlier reported Pepper Group's share sale plan.
"There used to be a view that there was great merit in going early in the year to avoid the rush," said Tony Sparks, a Sydney-based partner at law firm Allen & Overy. "We haven't heard that sentiment for probably two or three years."