Australian Dollar Delivers Rate Cut Central Bank Can't Provide
(Bloomberg) -- Australia's currency is set to head even lower as local interest rates fall further behind U.S. levels, delivering a dose of stimulus the central bank has long sought but been reluctant to provide itself.
The RBA's cash rate is now 75 basis points below the Federal Reserve target, the widest gap since 35 years ago when the Aussie dollar was first floated. The differential is only set to grow as the U.S. keeps tightening and Australia stays on hold at a record low 1.5 percent -- which markets and economists think will be the case for at least another year.
For Governor Philip Lowe, it's manna from heaven. Already down 11 percent from its January peak, the declining Aussie helps ratchet up economic growth, hiring and wages without him needing to cut interest rates -- finally realizing a scenario the Reserve Bank first envisaged several years ago.
"A lower Aussie dollar is certainly helpful for the Australian economy," said Paul Bloxham, chief economist for Australia at HSBC Holdings Plc, who sees the currency falling from near 72 U.S. cents to 68 cents by the middle of next year. "The sort of loosening we're expecting from the currency over the next nine months is about equivalent to 25 basis points of loosening on the cash rate."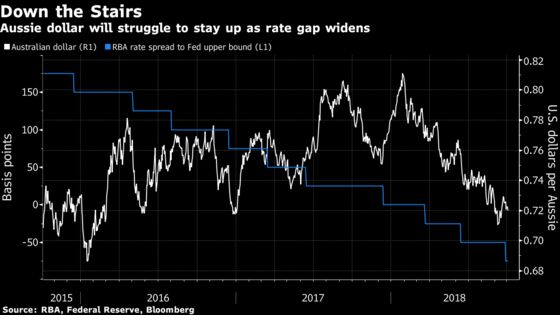 Australian central bank officials have been blowing on the economy's embers for the past two years in a bid to fuel growth and inflation, setting the stage for the first rate hike since 2010. There's been some progress -- the economy expanded an annual 3.4 percent in the second quarter and unemployment has fallen to 5.3 percent -- but it's been very gradual and an injection of further stimulus is welcome.
While rate differentials will be a key factor in pushing the currency down, there's also China. The Aussie is vulnerable to a potential drop in key commodity prices as the world No. 2 economy hits peak steel production and its growth slows amid a trade war.
There's only "one direction for the Aussie against the greenback -- and that's down," said Nick Twidale, Sydney-based chief operating officer at Rakuten Securities, one of the world's biggest retail forex brokers. "It's more a case of how far will it go and some of that will depend on how the current global trade concerns pan out."
The currency came under renewed pressure Wednesday after data showed that building approvals unexpectedly slumped 9.4 percent in August, the biggest monthly drop this year. The Aussie fell to 71.66 cents immediately after the report, and bought 71.72 cents at 5:05 p.m. in Sydney.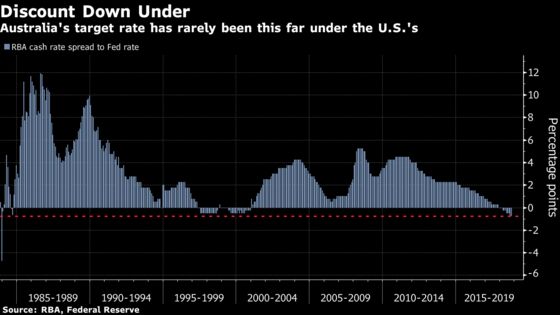 RBA officials began anticipating several years ago that as the U.S. economy rebounded and the Fed tightened, the local currency would weaken and allow the central bank to run normalized rates. Yet while the U.S. continued to recover, the Fed remained timid and on the sidelines for a prolonged period.
Not anymore: with economic growth having a 4 in front of it and unemployment with a 3 in front, the Fed is tightening with confidence -- despite U.S. inflation remaining relatively restrained.
Stephen Miller, an adviser at Grant Samuel Funds Management in Sydney and former head of fixed income at BlackRock Investment Management Australia, echoes that view.
"The Fed came out last week and increased rates, and your best case is they've got another two to three hikes in the locker -- that indicates that interest rate differentials are going to widen, and that means the Aussie is going to struggle," he said. "You'll see something like the high 60s in the next six months."