Australian Companies Raise Record Amount of Cash in Stock Offers
Cash-strapped Australian companies have raised more money through follow-on stock offerings this month than they did at any other point on record, including in the depths of the global financial crisis.
Listed Australian companies have raised A$11 billion ($7.2 billion) from equity placements in April to weather the coronavirus pandemic, data compiled by Bloomberg show. That's more than any previous month on record, according to data going back to December 1994.
More than 60 companies have offered new, discounted shares to shore up their balance sheets since April 1, underscoring how deeply the economic shutdown has cut into corporate Australia's cash flows and how uncertain relief from the restrictions still remains. It's been even busier than the depths of the financial crisis in November 2008, when listed firms sold A$7.4 billion of new stock, the data show.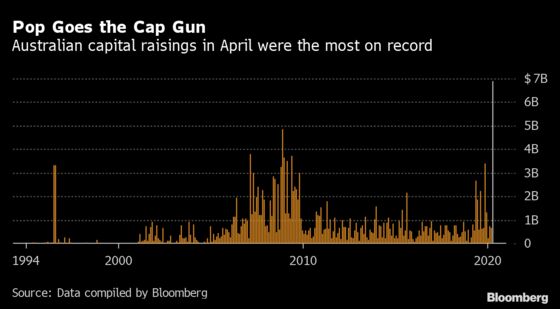 Australia's stock exchange on March 31 relaxed rules to allow companies in desperate need of cash to tap the share market for larger sums of capital faster than usual.
This week, the nation's fourth-biggest lender by assets, National Australia Bank Ltd., completed the largest equity offering this year with a A$3 billion institutional placement. The share sale came as the bank announced its results for the first half of fiscal 2020, reporting that earnings had plunged 51% and that it would cut its dividend.