Australian Banks Slammed for Greed in Industry's 'Day of Shame'
(Bloomberg) -- Australia's long-running inquiry into its financial industry lambasted a runaway culture of greed and poor behavior but stopped short of recommending any penalties, sending bank shares rallying.
The wrongdoing was too often driven by greed or "the pursuit of short-term profit at the expense of basic standards of honesty," the inquiry led by Commissioner Kenneth Hayne said in its interim report released in Canberra Friday. "The banks have gone to the edge of what is permitted, and too often beyond that limit, in pursuit of profit."
Since public hearings began in March, the government-appointed Royal Commission has unearthed a string of scandals, including wealth advisers charging dead people for services, lying to regulators about misconduct, and loan officers accepting bribes. In his wrap-up of the evidence so far, Hayne slammed the banks' culture, conduct, compliance and remuneration practices and criticized regulators for a timid approach.
"Today is a day of shame for Australia's banks," said Anna Bligh, chief executive officer of the Australian Banking Association. "Our banks have failed in many ways. Failed customers, failed to obey the law and failed to meet community standards. And all of these failures are totally unacceptable. Too many customers have been hurt and it has to stop."
Still, while the report posed serious questions, it gave few answers about what new regulation might be needed to make financial institutions behave properly. That triggered a stock rebound, with a gauge of financial shares closing 1.2 percent higher, the biggest gain in a month.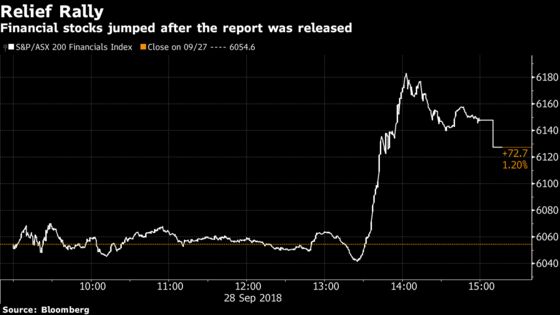 The report criticized authorities for going easy on banks and financial firms, saying the securities watchdog "rarely" took court action to punish misconduct, while the banking regulator never went to court.
"When misconduct was revealed, it either went unpunished or the consequences didn't meet the seriousness of what had been done," the report said. "There seems to be a deeply entrenched culture of negotiating outcomes rather than insisting upon public denunciation of and punishment for wrongdoing."
The Australian Securities & Investment Commission will carefully consider the report's "serious and important observations," Chairman James Shipton said in an emailed statement.
The report is "an indictment on Australia's regulatory environment, which has been laissez faire self-regulation at the end of the day," said Sean Fenton, a portfolio manager at Tribeca Investment Partners who manages about A$1 billion ($721 million). "Regulatory scrutiny is going to be increased."
The revelations from the hearings are already starting to reshape the industry. Most of the banks are looking to sell their financial planning units, where most of the problems occurred, have tightened lending criteria, and cut fees. The chief executive officer and chairman of AMP quit and National Australia Bank has overhauled its executive team and pay structure, while the prospect of slowing growth has helped wipe out about A$39 billion of market value from the big four banks and AMP this year.
More on Australian Banks' Wrongdoing:
Commonwealth Bank to Pay Record Fine to Settle Laundering Suit 
Australia's government led by new Prime Minister Scott Morrison is facing public pressure to act tough on financial firms ahead of a general election, after long resisting calls for a public inquiry. Treasurer Josh Frydenberg said the report is a "frank and scathing assessment of the culture, conduct and compliance of our financial system."
The opposition Labor party's acting leader, Tanya Plibersek, said that it will establish a task force "to reform the culture of profit over people in the financial services sector," should it win the election due to be held by May.
The inquiry will conclude public hearings later this year before releasing its final report in February.