Australian Open Proceeds Even as Melbourne Enters Snap Lockdown
(Bloomberg) -- The Australian Open Grand Slam tennis tournament in Melbourne will continue without spectators even as the nation's second-most populous city enters a snap five-day lockdown from midnight to contain an outbreak of the virulent U.K. strain of the coronavirus.
Victoria Premier Daniel Andrews said the state's 6.5 million residents must stay home except for essential shopping, care, exercise and work as authorities battle to contain the outbreak which has spread from a quarantine hotel and seen cases in the state grow to 19.
However, the tennis tournament, which is nearing its midway point, will continue. Holding the first Grand Slam of the year has been fraught with challenges, from compulsory 14-day stays in hotel quarantine for all 1,200 members of the international tennis entourage, and grumbles from players about sub-optimal training conditions. Play started Monday in front of reduced crowds, but will now continue in front of empty stands.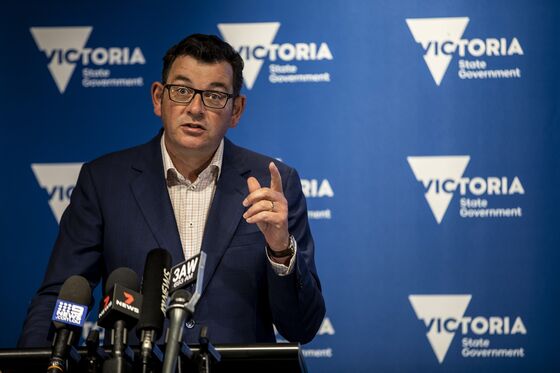 "We must assume that there are further cases in the community than we have positive results for, and that it is moving at a velocity that has not been seen anywhere in our country over the course of these last 12 months," Andrews told reporters on Friday.
Supermarkets will remain open, but other retailers, gyms and entertainment venues will close, and people will be barred from traveling more than 5 kilometers (3 miles) from their homes. The Australian Open is being treated as a workplace, meaning it can continue without crowds.
The Australian dollar declined to its low for the day after the announcement, dropping as much as 0.2% to 77.35 U.S. cents. Travel-related stocks also fell. Webjet Ltd., which is a travel-booking agency, declined as much as 5.2%, while Qantas Airways Ltd. dropped as much as 5%.
Corporate Travel Management Ltd. and Flight Centre Ltd., which also book holidays and flights, also declined. Australia's benchmark index fell 0.5% as of 3:10 p.m. in Sydney.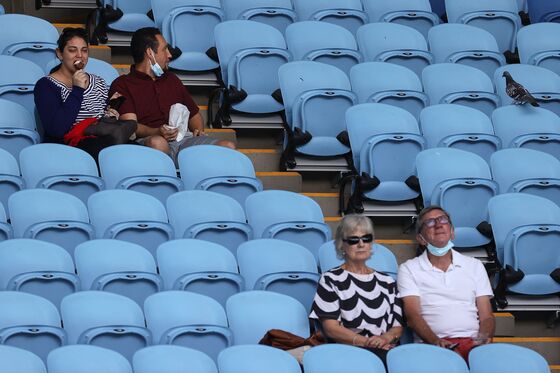 The renewed restrictions are a blow to Melbourne, where 5 million residents last year endured one of the longest and harshest lockdowns in the world after the virus escaped from hotel quarantine. Other states across the country have followed a successful model of curbing community transmission with short circuit-breaker lockdowns in cities including Sydney, Brisbane and Perth in recent weeks.
The outbreak is yet another example of the insidious ways that Covid-19 can spread, stymieing even countries with the strictest travel and containment regimes in the world.
It's raising concern that Australia's quarantine system, in which overseas arrivals must stay in designated hotels in major cities for 14 days, need to be reinforced or redesigned as more virulent strains of the virus emerge. More than 220,000 people, mainly Australian citizens, have entered the nation under the system since the pandemic began.
States including Queensland, Western Australia and South Australia have announced they will block arrivals from Melbourne as they reimpose hard borders, in a fresh blow to the national economy.
Australia, which has recorded fewer than 29,000 cases of Covid-19 since the pandemic began, has come close to eliminating community transmission of the virus through strict controls on travel, vigilant contact tracing methods, and testing.
Health authorities believe the cluster started in a Melbourne quarantine hotel by a person who used a nebulizer to treat a health condition.
The medical device, which vaporizes medication or liquid, spread the virus through mist suspended in the air with very fine aerosolized particles, which were carried out of the hotel room and to staff. Since then, spouses of workers have also been infected.
Andrews said he was "looking at hotel quarantine and whether it can be done at an acceptable risk level" due to the emergence of more virulent strains of the virus. That could include allowing reduced number of Australians to re-enter the country, perhaps only on compassionate grounds.
"This just shows you that you can test everybody every day, you can have all the other protocols, you can do all the work, but it's a different challenge now," Andrews said. "It's not the 2020 challenge. It is a very, very different virus."