Australia's Pension Giants Tell Companies to Act on Climate, Social Change
(Bloomberg) -- Australia's pension funds are throwing off their reputation as passive investors.
They're making governance and environment and social responsibility part of their mantra, pushing for a ban on single-use plastic bags at supermarkets, lobbying miners to take action on climate change and demanding companies hire more female directors. The super industry in Australia is growing exponentially, almost tripling over the past decade and expected to top A$5.4 trillion ($3.8 trillion) by 2029, and funds have been buoyed by recent ESG wins.
"Australian superannuation funds are sensible, and they use their power wisely," said Fiona Reynolds, the London-based chief executive officer of Principles for Responsible Investment, a UN-backed organization representing $82 trillion in assets under management. "I don't think they abuse it."
The conversations taking place between big business and money managers estimated to own an average of around 14 percent of every S&P/ASX 200 listed company is in contrast to the ruling Liberal Party's stance. Prime Minister Scott Morrison hasn't made climate change a top priority in the lead up to this month's federal election, angering voters. An OECD report in January slammed Australia's efforts to fight climate change, noting that environmental issues have been a catalyst for political instability.
"In some cases it's because of government inaction on issues like climate change that investors and business have had to get on with things themselves," Reynolds said. "Even business in Australia is crying out for better climate policy."
AustralianSuper Pty was part of a global lobbying effort that prompted Rio Tinto Group to assess and report the potential risks and opportunities of climate change. The mining giant said last month it would walk away from industry lobby groups that clash with its views on coal.
Super funds had another victory in February when, as part of engagement through the Climate Action 100+, Glencore Plc pledged to limit coal production and align its business with the Paris Agreement. It was a surprising about-face from a company that's spoken glowingly of coal in the past and snapped up big Australian coal mines from rivals exiting the industry.
The increasing importance that Australia's super funds are placing on ESG mirrors a global shift. Norway's colossal wealth fund in March said it would dump around $7.5 billion of shares in oil and gas production and exploration companies, while Government Pension Investment Fund in Japan -- the world's largest -- requires asset managers to integrate ESG into their analysis. Even hedge funds, which have at their core the ability to make unconstrained investment decisions, can't escape the change in sentiment.
"Many boards find it refreshing to talk to people who have an interest in longer-term issues rather than short-term share price," said Louise Davidson, chief executive officer of the Australian Council of Superannuation Investors, a body that represents heavyweights including AustralianSuper and First State Super. "Companies actually welcome that dialogue."
There's still more to do, however. Louise Lew, the head of sustainable investment, Australia for Willis Towers Watson Plc, said Europe leads in a number of areas. "There's been a big push in Europe in terms of regulation that has shifted the whole industry ahead, whereas we're not seeing that to the same extent here."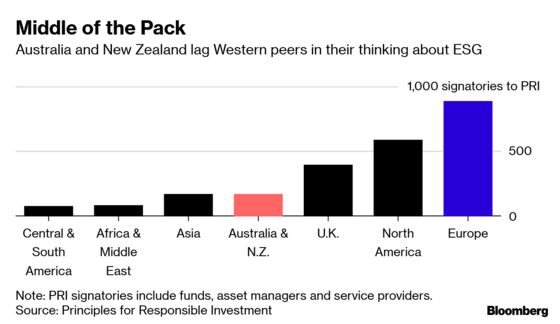 ESG issues that raise the ire of consumers, for example, remain a touchy subject. Coles Group Ltd. and Woolworths Group Ltd., Australia's two biggest supermarket chains, last year hesitated to scrap single-use plastic bags after pressure from shoppers in one direction and environment groups including Greenpeace in the other. Both have since dumped them, and charge a small fee for reusable plastic ones.
"Some of these things shouldn't be as hard as they are," ACSI's Davidson said. "If you advocate on some of these things you're seen as a do-gooder or whatever, but it's just common sense."
Getting more women on boards is also still a challenge. In 2017, the CEO of Health Employees Superannuation Trust Australia, Debby Blakey, sent letters to the top 200 listed companies saying the fund would start voting out the longest serving male directors up for re-election on all-male boards. That was part of a concerted effort by the superannuation industry.
The fund for people working in health and community services has also been a vocal advocate of The 30% Club, which campaigns for greater representation of women on boards with a target of a minimum of 30 percent. Australia fell just short of its goal to meet the target last year, with women holding 29.7 percent of ASX 200 board positions as of Dec. 31, a 10 percentage point increase since 2015, according to the Australian Institute of Company Directors.
"To get so close is a great outcome, but of course being strong advocates we would have loved to have smashed it," HESTA Chief Investment Officer Sonya Sawtell-Rickson said.
But HESTA doesn't believe in dumping a company's shares because of its ESG principles.
"Divestment is actually not our preferred action, because once you divest, you haven't got a voice," Sawtell-Rickson said. "We'd rather have an active voice and try and drive change that is meaningful than sit on the sidelines."
That chimes with ACSI's own approach.
"We don't talk publicly about changes we've made behind closed doors because then it makes it harder to make change behind closed doors," Davidson said. "The way we work is not really to come out claiming scalps."