No Excuse for Failings, Bank CEO Says: Australia Inquiry Update
(Bloomberg) -- Commonwealth Bank of Australia's Matt Comyn is the first of the big-four bank CEOs to testify on Monday as an inquiry into misconduct in the nation's financial industry enters its final phase.
Comyn says he has "no adequate explanation" for how a lender of Commonwealth Bank's size had inadequate risk and compliance functions.
Within the bank there has been "too much fragility -- on the part of individuals -- to hear criticism," Comyn says.
CEO is testifying at the Royal Commission, which has heard of a string of scandals including lying to regulators, falsifying documents and taking bribes that has led to calls for tougher regulation. The inquiry's interim report concluded banks pursued "short-term profit at the expense of basic standards of honesty."
A long day in the witness box for Comyn comes to an end. He faced almost five hours of questioning on subjects ranging from the scripts provided to insurance sales people to whether mortgage-broker commissions should be overhauled. His approach was consistent throughout -- admit to past failings and reiterate his pledge the bank would improve. While he came under pressure at times, there was no new evidence presented of misconduct. We did learn that at the height of Australia's property boom, there was about 1,300 mortgage brokers earning more than A$1 million ($730,000) a year from the bank, and around 200 earning in excess of A$2.5 million.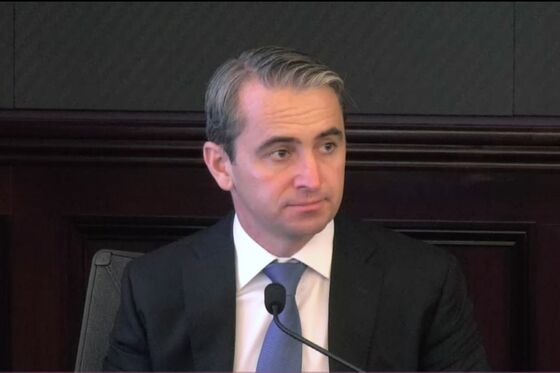 Commonwealth Bank shares didn't react throughout the course of the hearing, closing down 0.6 percent -- in line with the broader index.
Comyn will return for further questioning at 9:45 a.m. tomorrow.
Mortgage Incentives (3:20 p.m.)
The inquiry's lead barrister Rowena Orr has spent the session after lunch focusing on commissions paid to mortgage brokers. The payments were criticized in earlier hearings as encouraging brokers to promote larger loans than customers needed and that weren't necessarily in a borrower's best interests. Internal emails tendered show that in 2017 Commonwealth Bank had been ready to move to a model where brokers just received a flat fee. Those plans were scrapped for fear rival lenders wouldn't follow suit, Comyn said.
And That's Lunch (1 p.m.)
Much of the past hour-and-a-half has been taken up with Comyn being closely questioned on pay for front-line workers such as tellers and loan officers, as well as incentives for mortgage brokers. That suggests remuneration for all bank workers, and the potential for that to lead to misconduct, is squarely in the sights of the commission.
Thin-Skinned (11:35 a.m.)
Comyn has been taken through a series of letters from senior executives giving their thoughts on the regulator's report into cultural failings at Commonwealth Bank that led to a massive breach of anti-money laundering laws.
In one, the head of compliance for the retail bank said her team felt "vindicated and relieved" by the critical report, noting that challenges from compliance hadn't been welcomed inside the lender.
Accepting this needs to change, Comyn said he is focusing on ensuring it becomes normal to challenge colleagues. "We need to bring much more sharpness and a willingness to listen, and in the past I think there's been too much fragility of -- on the part of individuals -- to hear criticism," he says.
No Adequate Explanation (10:45 a.m.)
After being read a list of Commonwealth Bank's failings, and accepting the lender had inadequate capability in the critical areas of operational risk and compliance, an uncomfortable-looking Comyn is asked how that could be the case at the country's biggest lender: " I don't have an adequate explanation for that," he says.
Asked what the main cause of the bank's failings were, and what will be hardest to fix, Comyn said the lender had failed to learn from its mistakes. "As the chief executive, of course, one of my primary issues is ensuring that we have a culture which has learned from the areas and issues of misconduct and we are a very different organization for our customers going forward."
No More Apologies (10:30 a.m.)
Setting the scene for this week's hearings, Orr is clear she's not interested in hearing "further apologies, or expressions of regret" from the executives. Instead, the commission is focused on trying to understand why misconduct happened, in particular whether there are core problems with risk management, recruitment, pay or governance practices. And second, what can be done to prevent problems reoccurring. In other words: there will be no patience with grandstanding or warm words.
The Sydney-based lender's chairman Catherine Livingstone is expected to appear later this week to answer questions on the bank's governance practices, which were criticized in a separate inquiry into a massive breach of anti-money laundering laws.
The inquiry will also this week hear from the CEOs of Westpac Banking Corp., Macquarie Group Ltd. and the head of the Australian Securities and Investments Commission. The sessions in Sydney will run until Friday, before moving to Melbourne next week for the final public hearings.