Australian Leader Makes Climate Change Pitch as Election Looms
(Bloomberg) -- Australian Prime Minister Scott Morrison is pledging A$2 billion ($1.4 billion) over the next 10 years in direct action to lower greenhouse gas emissions, making a climate pitch to voters ahead of elections due by May.
The new Climate Solutions Fund announced by Morrison is an extension of the Emissions Reduction Fund introduced by former prime minister Tony Abbott in 2014 and will target small and medium-sized projects aimed at reducing emissions. Among the measures is encouraging farmers to plant more trees and subsidizing the replacement of inefficient electrical equipment owned by small businesses.
The government's plan will address climate change "with practical solutions that reduce carbon emissions while preserving our economic strength and our living standards," Morrison said in a speech in Melbourne on Monday. "My government acknowledges that we must accept the facts of climate change and address it. We do so with cool heads, not just empassioned hearts."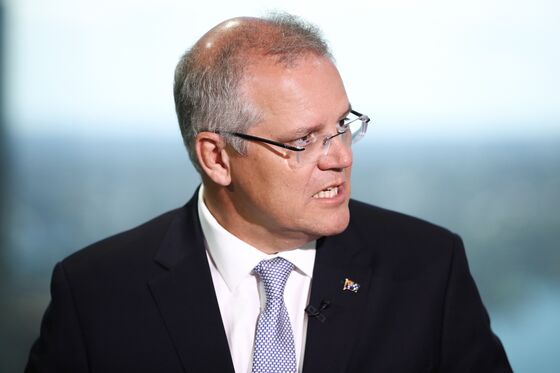 Morrison is betting the announcement will nullify attacks from environmental groups and the main Labor opposition that his center-right government lacks a coherent policy to counter greenhouse gas emissions. Addressing climate change has split his ruling Liberal-National coalition, with predecessor Malcolm Turnbull forced by his lawmakers to drop a plan to legislate carbon emissions targets as part of his National Energy Guarantee before he was removed in a party-room coup in August.
Since becoming leader six months ago, Morrison has shifted his party's energy-policy focus to reducing electricity prices and bolstering reliability. His government has plans to underwrite new baseload power generation, and has not ruled out subsidizing new coal-fired plants -- even as some aging, existing plants are mothballed.
While Morrison claims Australia will comfortably meet its Paris Agreement goal to lower emissions by 26-28 percent of 2005 levels by 2030, Labor has said it will target a more ambitious 45 percent cut in carbon emissions by 2030 and has pledged an extra A$10 billion in funding for large-scale renewable generation and storage projects. Morrison said Labor's target was reckless and would "put a wrecking ball through the Australian economy."
A Newspoll conducted Feb. 21-24 and published in The Australian on Monday shows Labor remains on track to win the election, leading Morrison's government 53 percent to 47 percent -- unchanged from two weeks earlier.