Australia Denies China Coal Ban in Bid to Ease Investor Fears
(Bloomberg) -- Australia denied that a major port in northern China has banned its coal imports and sought to calm investor nerves that strained political ties are undermining its most important trading relationship.
Key government ministers took to the airwaves Friday to dismiss a report that Dalian Port Group has imposed an indefinite ban on Australian coal. While quotas and testing has slowed down shipments in some areas, there's no indication Australia has been singled out, Trade Minister Simon Birmingham said.
"We have no basis to believe that there is a ban on Australian coal exports into China," Birmingham said. The measures are "consistent with what China has applied before and continues to apply and apply equally to all countries," he said.
The report by Reuters on Thursday jolted the Australian dollar and caused the shares of major coal miners to drop, amid fears China may be flexing its economic muscles and warning nations not to bar its next-generation wireless technology.
Australia last year followed the U.S. in banning Chinese telecommunications giant Huawei Technologies Co. from its 5G network on security grounds. China has said such concerns are unreasonable and warned other countries of unspecified consequences if they follow suit in blocking Huawei equipment.
Both Treasurer Josh Frydenberg and Reserve Bank of Australia Governor Philip Lowe warned against jumping to conclusions and said any restrictions by China could be driven by environmental concerns or Beijing's desire to balance consumption of domestic and imported coal.
Their comments gave negligible support to the Australia dollar, which closed down 1 percent on Thursday and was little changed at 70.93 U.S. cents at 4:38 p.m. in Sydney. Coal mining stocks took a hit on the Sydney exchange Friday, with New Hope Corp. closing down 3.6 percent. BHP Group slipped 0.4 percent in Sydney trading after losing 2 percent in London Thursday, the biggest drop in six weeks.
The mining community is divided on what's behind China's curbs, which are usually targeted at thermal coal for its power plants but this year are mainly aimed at coking coal used in steel-making. Australia is the world's largest exporter of this variety. Some shipments have been delayed by customs as long as 40 days.
Anglo American Plc, a major producer of Australian coal, on Thursday said it's not seeing any problems with its shipments into China, while mining giant BHP Group sees the delays as a result of China seeking to balance consumption of domestic and imported coal.
"It's not particularly Australian in its nature," Andrew Mackenzie, chief of the Melbourne-based company, said Tuesday. "I don't believe for one moment this is linked to some of the higher level issues of relationships between China and the rest of the world, and including with us."
Still, on Wednesday, the head of Glencore Plc Ivan Glasenberg said the mining giant sees politics behind the delay to customs clearances and is awaiting a resolution to the "diplomatic dispute."
While China has a history of using trade as leverage to help it achieve its foreign policy goals, it also regularly tweaks import limits to steer its coal market, the world's largest, as the country tries to ease its reliance on the fuel.
Asked directly about the Reuters report on Thursday, foreign ministry spokesman Geng Shuang told reporters in Beijing that China examines imported coal to protect the environment. He didn't say whether China was targeting Australia specifically.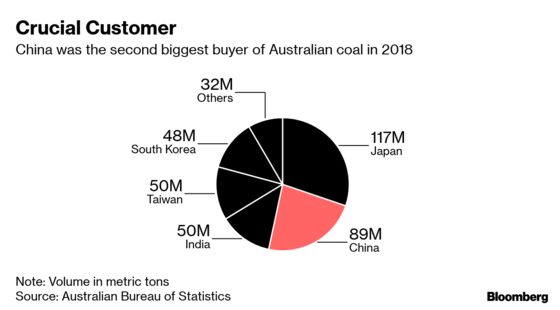 Australia is the world's most China-dependent developed economy yet has an enduring security relationship with the U.S. and often finds itself walking a diplomatic tightrope between the two. In recent months, Prime Minister Scott Morrison's government agreed to work with the U.S. on a naval base in Papua New Guinea, a move seen as a direct counter to China's growing influence in the South Pacific.
Australian beef and wine exporters last year blamed politics when their products were held up at Chinese ports, after then-Prime Minister Malcolm Turnbull implicitly criticized Chinese meddling in Australian politics and universities.