Audemars Piguet Sees Controversial New Watch Spurring Sales
(Bloomberg) -- Audemars Piguet, known for its chunky Royal Oak chronograph, expects a record year in 2019 after stunning the watch industry with a new line of timepieces that is polarizing critics with its more classical looks.
Sales rose 10 percent to 1.1 billion francs ($1.1 billion) last year, and the new model should expand the 144-year-old watchmaker's clientele, Chief Executive Officer Francois-Henry Bennahmias said in an interview at a watch fair in Geneva. It's family-owned Audemars Piguet's biggest launch ever and its first collection with variants for men and women introduced simultaneously.
The line was greeted by some negative reviews on social media over the weekend, but the response at the fair was the opposite, Bennahmias said. On Saturday the brand hosted 125 clients for an in-person viewing, and many of them ordered timepieces, he said.
"They were like kids in a candy store," he said. "The good news is it's a watch that everybody's talking about."
The company is putting 2,000 of the new watches, called Code 11:59, on sale this year and will boost total production next year after a five-year freeze at 40,000, the CEO said. The collection could eventually make up as much as a quarter of sales, he said.
Audemars Piguet has previously struggled with more classical lines, as sales were driven by the Royal Oak, conceived in the 1970s.
"It's harder than many people think to follow up an icon," said Mark Bernardo, an editor at WatchTime, a U.S. industry magazine.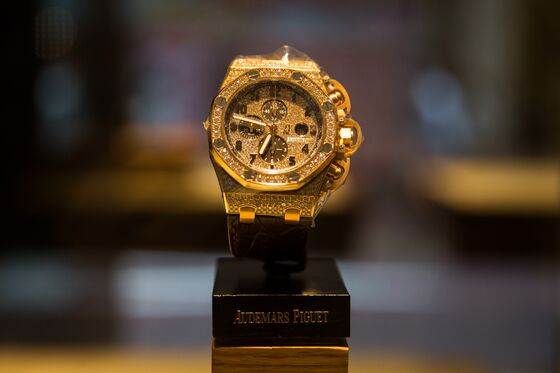 The new line required seven years of development, including making new ovens to weld components at 800 degrees Celsius (almost 1,500 degrees Fahrenheit). It uses a special chemical process to produce the company logo in gold relief. Some parts are so complicated that the brand has only 10 craftsmen skilled enough to apply the finishing. Six months before the launch, one of two suppliers of watch dials bailed out because making the lacquered faces was too complicated and it had to throw away too many attempts, the CEO said.
Presenting a new watch online presents challenges, too. When Audemars Piguet introduced a special type of finishing it calls "frosted gold" two years ago, it took five months of photographing before a picture captured the effect, according to Bennahmias. The new line posed a similar challenge.
"Maybe next time we won't use social media the way we did," he said. "The pictures apparently didn't give enough credit to the watch."