Atlantic Storm Poised to Send Europe to New Wind Power Records
(Bloomberg) -- A storm named Ciara that's about to hit western Europe this weekend is poised to send its wind turbines spinning like never before.
Record wind power output is expected in the U.K. on Saturday and in Germany on Sunday, according to Bloomberg's forecasting model. If realized, it's yet another sign of how renewable energy is upending traditional energy economics by crowding out traditional fossil-fuel plants.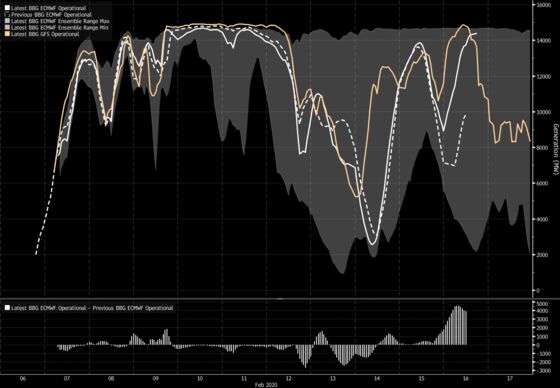 "An extremely strong jet stream will steer a succession of low-pressure systems towards the U.K. over the next week, starting with Storm Ciara this weekend," said Frank Saunders, chief meteorologist at the U.K.'s Met Office, which named the storm on Wednesday.
Wind provided about 19% of Britain's electricity in 2019, a third consecutive annual record.
The U.K.'s previous record was set on Jan. 7 when output peaked at 13,761 megawatts, according to grid data. Germany's earlier all-time high was on March 3 last year.