AT&T Can Afford Its Dividend ... for Now
(Bloomberg Opinion) -- It's time to talk about AT&T Inc.'s beloved dividend. 
To do that, we first need to talk about debt. This week's sell-off in the bonds of another iconic American name — General Electric Co.— sent ripples through the wider credit market. Some highly regarded bond-fund managers warn of a reckoning for other U.S. investment-grade borrowers, in particular the "triple-Bs," a group rated just above junk status that comprises a majority of S&P 500 companies. Among them is AT&T, which became the most indebted non-bank issuer after completing its takeover of Time Warner in June for a total value of $102 billion. 
AT&T is now at an inflection point. It could be that CEO Randall Stephenson's debt-fueled transformation of the wireless carrier into a media giant proves an auspicious strategy, as more of our time is spent streaming video content on wireless devices. Or the company may have bitten off more than it can chew. Recall that before Time Warner, AT&T acquired DirecTV for some $63 billion including debt — many billions too many. 
The test is whether AT&T can stabilize revenue, profit margins and subscriber numbers — the DirecTV division being the most problematic area — as it refinances an enormous amount of debt (likely at higher rates) while pumping investment dollars into a 5G high-speed network. After all, AT&T's wireless business is still the biggest driver of free cash flow.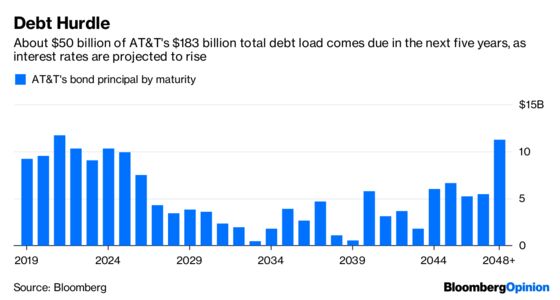 Last July, when AT&T was in the throes of the Time Warner takeover process, I wrote that successful completion of the deal would mean the company's funds need to stretch further than ever to satisfy bondholders and a dividend-hungry shareholder base, let alone its own network needs. AT&T has raised its dividend for 34 consecutive years, paying out about 68 percent of its free cash flow in the last nine months. Its dividend yield is 6.6 percent, among the highest in the S&P 500.
In about a month, AT&T is expected to declare another payout increase to 51 cents per share per quarter, or what amounts to nearly $15 billion. Moody's Investors Service, when downgrading AT&T in June, said, "Its low free cash flow after dividends limits financial flexibility" and that eventually "AT&T will need to reduce its cash dividends in order to remain competitive with its new peer group that includes other media and technology giants, which have very lean balance sheets."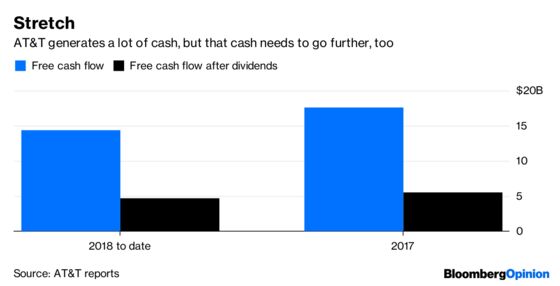 A lot needs to go right for Stephenson's vision to work, and when it comes to conglomerate-building, smooth sailing tends to be more the exception than the norm. As I've noted before, analysts' Ebitda estimates for the new AT&T are lower than they had been before it bought Time Warner. Should anything either within AT&T or in the broader market and economy cause the company's credit metrics to look vulnerable, the dividend would have to be the sacrificial lamb. Craig Moffett, an analyst at MoffettNathanson LLC, put it best recently: "AT&T's dividend is thought to be sacrosanct. But AT&T's investment-grade bond rating actually is sacrosanct." The dividend crowd are low men on the totem pole. 
AT&T's stock has fallen 22 percent this year, perhaps a sign some investors are bracing for a potential dividend cut. Granted, Bloomberg's dividend health score for AT&T, which uses a proprietary model of profitability, cash flow and leverage metrics, has improved this year. Stephenson also predicts AT&T's free cash flow will climb to $25 billion on a running annual basis after this year, as certain spending needs abate and DirecTV's Ebitda stabilizes in 2019. Still, I'm skeptical that higher prices for DirecTV and DirecTV Now won't backfire and result in a subscriber exodus.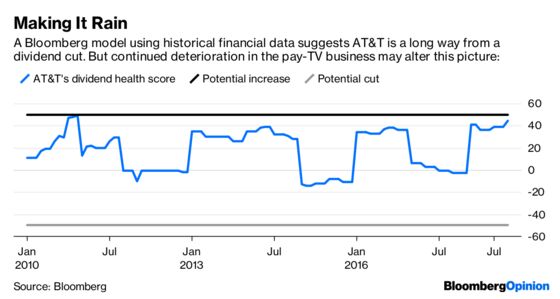 As GE falters, many are eager to call the next GE. But with AT&T, it's more a question of whether its long run as a reliable, utility-like, dividend-paying stock is sustainable as it morphs into a media content and distribution giant. 
This column does not necessarily reflect the opinion of the editorial board or Bloomberg LP and its owners.
Tara Lachapelle is a Bloomberg Opinion columnist covering deals, Berkshire Hathaway Inc., media and telecommunications. She previously wrote an M&A column for Bloomberg News.