At Least Ryanair Used to Get You There
(Bloomberg Opinion) -- Airline passengers have had to reset their expectations of Ryanair Holdings Plc. Once the most important question was: How much more expensive does a rival carrier's ticket have to be before I accept the sometimes abrasive customer service that awaits flyers with Michael O'Leary's outfit?
But at least you'd be confident he would get you there. With strikes now disrupting Ryanair services in parts of Europe, potential passengers are wondering whether their flight will even take off. Those doubts have put downward pressure on Ryanair's fares, leading to a profit warning from the Irish company on Monday — a 12 percent downgrade on previous guidance.
Investors are making a similar reassessment. In recent years, most analysts had a buy recommendation on Ryanair stock on the basis that its slim cost base was an impregnable advantage. More growth just meant more profit for Ryanair, regardless of how rivals responded. Strike costs were something legacy carriers like Lufthansa AG and Air France-KLM had to worry about.
That investment case has suffered serious damage in recent months. Ryanair's labor costs are rising because of its recognition of trade unions and need to comply with less favorable local employment conditions. Higher oil prices aren't helping. The net impact is that analysts polled by Bloomberg don't expect profit to increase for the next couple of years. If earnings aren't growing, the share price isn't likely to either. Since a peak in 2017, the shares have declined almost 40 percent — eradicating almost 10 billion euros ($11.6 billion) of equity value.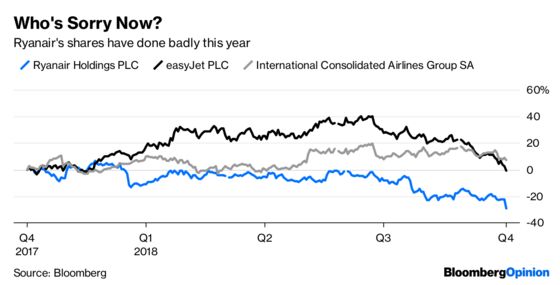 Compared to the average over the past five years, Ryanair's shares no longer look expensive. They trade on 11 times forward earnings. But that doesn't make them appealing. For one, Ryanair can't rule out further labor disruption. Second, the airline's obvious discomfort about the disruption to services is probably to its employees' advantage. They have an incentive to hold out for a better deal.
Third, it's unclear who'll be running Ryanair in a couple of years. O'Leary's contract expires in 2019 and he's not sure if he wants to sign up for another five-year term. If he goes, its doubtful whether chairman David Bonderman will stick around much long either. He got a less than effusive reception at Ryanair's recent annual shareholder meeting.
I've argued before that fresh leadership might help Ryanair get to grips with its labor strife. Both its earnings and its services have become less reliable. The least the airline could do is provide clarity on succession.
This column does not necessarily reflect the opinion of the editorial board or Bloomberg LP and its owners.
Chris Bryant is a Bloomberg Opinion columnist covering industrial companies. He previously worked for the Financial Times.