Aston Martin's Trading Debut Flops as Shares Fall After Open
(Bloomberg) -- Aston Martin's trading debut floundered after investors balked at a valuation that had put the U.K. luxury carmaker on par with larger and more profitable Italian competitor Ferrari NV.
The stock closed down 4.7 percent in London on Wednesday from its initial public offering price of 19 pounds ($24.70), a figure that gave the Gaydon, England-based company a market capitalization of 4.1 billion pounds.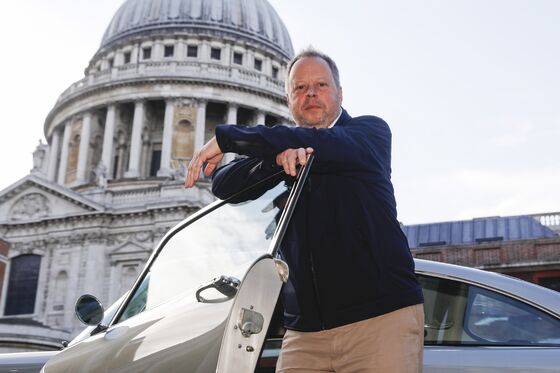 The slide came after the marque made famous in the James Bond series of spy films had already pared back its IPO ambitions this week by narrowing and lowering the share pricing range from an initial valuation of as much as 5.1 billion pounds. In the lead up to the stock sale by Aston Martin's investors, analysts had questioned comparisons with its Italian competitor.
"It is clear to us that in terms of consistency of returns, Ferrari is superior with a better financial strength rating," analysts from Quest, a division of Canaccord Genuity, wrote in a report, noting that Aston Martin didn't generate any operating free cash flow last year.
Aston Martin's IPO valuation was 20.7 times first-half earnings, according to Bloomberg data, close to the current share multiple of 21 times expected 2018 profit for Ferrari, which also has a stronger balance sheet. Both figures are more in line with luxury-goods companies than other automakers.
"We've taken 105 years to get to an IPO, we are not going to worry much on what the initial shares are doing as we will always look over the longer term," Chief Executive Officer Andy Palmer said in an interview with Bloomberg TV. As only the second luxury carmaker to go public, the market is still "adjusting," he said.
The British manufacturer, now known as Aston Martin Lagonda Global Holdings Plc, is planning to expand its presence in the sports-car world with the Vanquish, Vantage and DB models. It's also reviving the Lagonda name to break into the segment shared by U.K. rivals Rolls-Royce Motors and Bentley.
The pricing was impressive from Aston Martin's viewpoint but "far too expensive" given a backstory of historical losses and future targets reliant on the company replicating Ferrari's performance after its own 2015 listing, according to Arndt Ellinghorst, an analyst at Evercore ISI in London. It also shows that enthusiasm for luxury stocks is undimmed.
Owners including Italian private-equity firm Investindustrial SpA and Kuwaiti investors Adeem Investments and Primewagon were selling 27.5 percent of stock, with an over-allotment option, for an offer size of 1.19 billion pounds.
They walked away with a 10-fold return thanks to the turnaround of the historically loss-making automaker following Palmer's arrival in 2014, with the former Nissan Motor Co. executive introducing new models each year and seeking to double output to 14,000 cars a year.
"They priced it pretty well, getting that valuation," Ellinghorst said. "For now there is very little left until people see some numbers and are willing to take more risk."
For other investors, the execution risk of the deal and macro-economic factors that could buffet the company in the future, such as the fallout from Britain leaving the European Union, remain too big a deterrent for now, he said.
Palmer said he was "delighted" with the response to the IPO, describing it as a milestone for the company and pledging to deliver on growth plans. The CEO said Aston wanted "investors looking for the long term and in choosing the price we have been able to select a very awesome book" of them.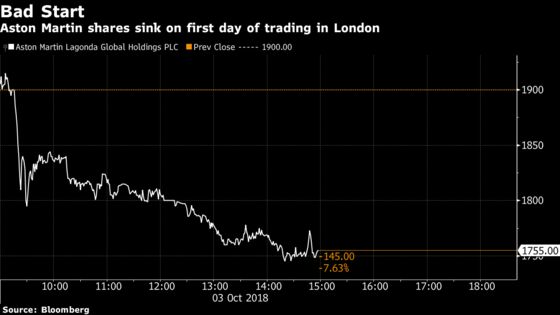 The shares, which closed at 18.10 pounds, had fallen as much as 8.2 percent during the day before rallying in the afternoon.
The listing marks the first IPO of a U.K. carmaker in more than three decades, since Jaguar was spun into an independent company under Margaret Thatcher's government in 1984.
Investors in Aston Martin made informal approaches to Ferrari about a deal soon after Sergio Marchionne took the reins at the Italian supercar maker in late 2014, Bloomberg News reported Tuesday. Ferrari reviewed a potential acquisition as a way to attract new customers, said people familiar with the matter.
Palmer declined to comment on any talks with Ferrari in 2015. "I was not involved," he said.