ASML Raises 2020 Revenue Guidance as Chip Gear Maker Grows
(Bloomberg) -- ASML Holding NV, Europe's largest semiconductor equipment maker, expects net sales to grow to 13 billion euros ($14.9 billion) by 2020, up from a previous forecast of 11 billion euros.
The company already expected sales to reach the 11-billion euro mark for 2018. In a statement kicking off its investor day on Thursday, ASML's management said it expects to continue to return "significant amounts of cash" to shareholders through a combination of share buybacks and growing dividends.
ASML shares rose as much as 2.9 percent in early trading in Amsterdam, before paring gains, rising 0.8 percent at 10:06 a.m.
"All in all, ASML's growth profile is intact for the next decade at least as expected," said Edwin de Jong, an analyst at NIBC Bank.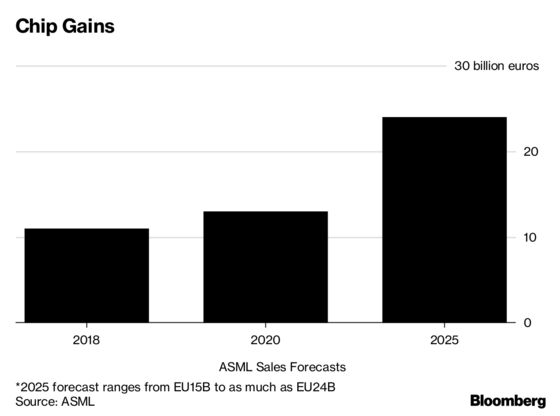 The Veldhoven, Netherlands-based company said the development of 5G connectivity, artificial intelligence, autonomous driving and big data are all driving "healthy" growth in the semiconductor end market.
Based on different market scenarios, the company said it could expect annual revenue in 2025 to reach between 15 billion euros to as much as 24 billion euros.
The guidance for 2025 is a "very wide range but they should be able to get there", especially with the help of the company's next generation extreme ultraviolet lithography systems, said Marcel Achterberg, an analyst at Bank Degroof Petercam. "The long-term market trends will require a lot more semiconductor makers and the only place where you can go to buy EUV machines is ASML."
The growth is another positive for ASML. The target of 11 billion euros in 2018 was already a record year. In October the manufacturer announced five new orders for its newest lithography machines in the third quarter.
ASML's Chief Executive Officer Peter Wennink along with other executives will discuss the company's strategy and developments at its investor day in Veldhoven, starting around 1 pm local time.