Asia's Rich From Massage Chair King to Telecom Tycoon Delay IPOs
(Bloomberg) -- Tycoons ranging from an Indian telecom billionaire to Singapore's king of massage chairs are delaying initial public offerings as a rout in emerging-market stocks deepens.
Billionaire Sunil Mittal's Bharti Airtel Ltd. is postponing a planned listing of its $8 billion African wireless unit by about half a year, people with knowledge of the matter said. The firm was originally aiming to list the unit in London by March, according to the people. A Bharti representative said preparations are proceeding "as per plan and there is no change."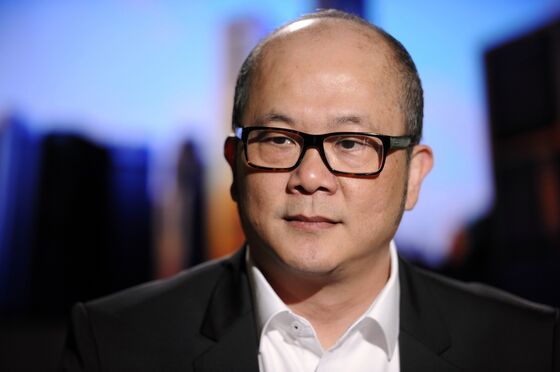 The volatility threatens what's been a banner year for listings out of Asia, with companies raising funds at the fastest pace in eight years, according to data compiled by Bloomberg. Asian firms have completed $81.3 billion of first-time share sales this year, up from $71.6 billion during the same period in 2017, the data show.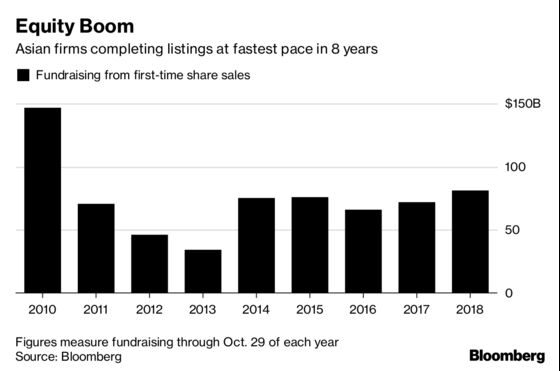 Asia has contributed some of the world's biggest equity offerings this year, as well as some of the biggest flops. Among the five worst-performing major IPOs globally, three come from Asia, data compiled by Bloomberg show.
Vietnamese luxury developer Vinhomes JSC has fallen 32 percent since its $1.4 billion IPO in May. Smartphone giant Xiaomi Corp., whose listing raised $5.4 billion, has shed 31 percent since it began trading in July.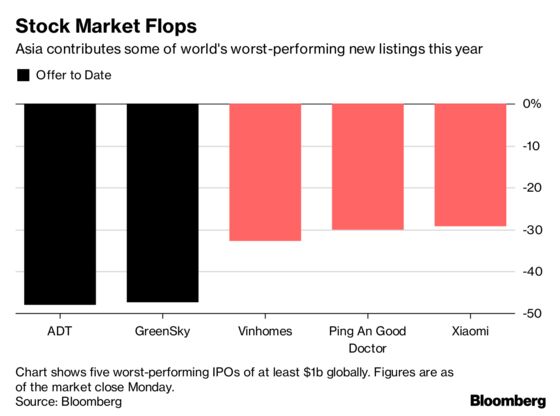 Other deals are also being affected by the turmoil. Tencent's online music arm was earlier pausing its plans for a U.S. IPO, a person with knowledge of the matter said this month. Indian real estate company Lodha Developers Ltd. has also postponed an IPO, in which it had initially anticipated raising about 55 billion rupees ($749 million), people with knowledge of the matter have said.