Asia's Newest Millionaires Swap Basket-Case Economy for Fine Art
(Bloomberg) -- In the Philippines, where a fifth of the country lives beneath the poverty line, locals have a new obsession: fine art.
Salcedo Auctions is gearing up for its flagship annual sale in September that last year left standing room only beneath the chandeliers of the ballroom in Manila's five-star Peninsula Hotel. The inaugural 2010 event was held under a tent in a shopping mall and attracted about a fifth of today's crowds.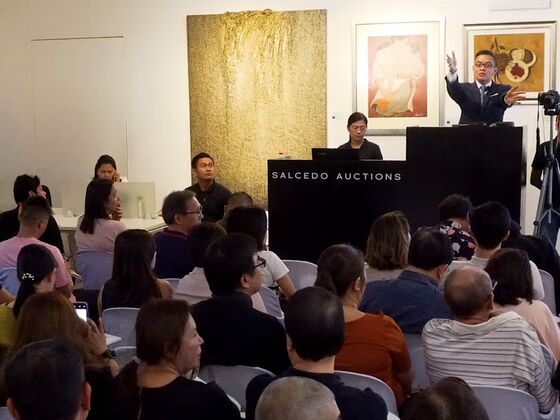 "Every event, there are always new faces," said Richie Lerma, director and co-founder at the auction house. "There are a lot of new affluent who have a shopping list of artists."
Packed art auctions, luxury home sales and exclusive resorts are among telltale signs of an unprecedented rise in rich Filipinos. While the Philippines still lags the likes of South Korea and Taiwan in dollar millionaires, rapid wealth creation is prompting brokerages and finance firms such as Credit Suisse Group AG to tap what was once Asia's economic basket case.
An outsourcing boom, record remittances from overseas workers and low interest rates have kept Philippine economic growth above 6 percent for most of the past six years. High net-worth individuals -- those possessing at least $5 million -- are tipped to increase more than 80 percent in the five years through 2022, the third-fastest pace in the world.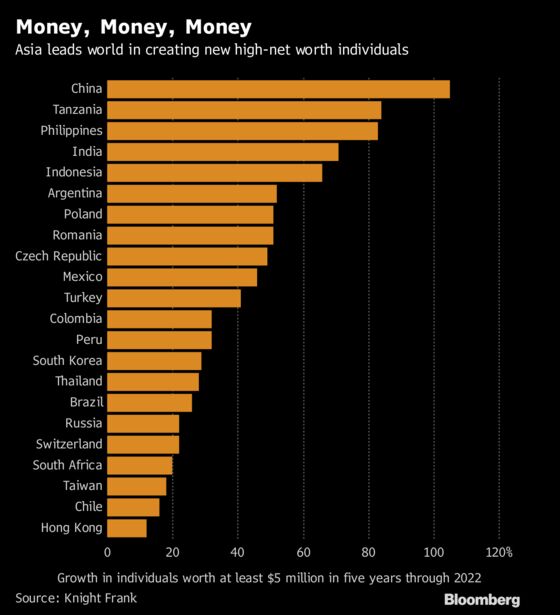 The race to woo millionaires is on. Credit Suisse is opening a Manila unit of its wealth management business, joining a growing number of private banks such as Julius Baer Group Ltd. that are targeting the Philippines and Southeast Asia. They're turning to the region's emerging rich as growth in the more mature markets of Europe and Hong Kong slows.
"We see a huge potential in the Philippines among Asia-Pacific," said Christian Senn, private banking market group head for the Philippines at Credit Suisse, who estimates that the nation's millionaire market will grow 10 percent annually. "Otherwise, we wouldn't be here."
Jump on a private jet in Manila, and within an hour you'll find exclusive resorts offering a reprieve from city life. Balesin Island Club provides 7.3 kilometers of white-sand beaches strictly for members' use only, while millionaires can laze on their own private island at the Amanpulo resort.
Back in the capital, high-end department stores selling luxury brands such as Balenciaga and Lanvin have sprouted. While still in its infancy, the Philippines' luxury goods market is tipped to grow more than a third to almost $2 billion in the five years through 2022, according to Euromonitor International Plc.
Now, the reality check: the brashness of new wealth lies in stark contrast with the lives of the Philippines' poor. About a fifth of the nation's more than 100 million people live on less than $3.20 a day, the World Bank estimates. But it's also optimistic that economic growth is helping to lift a million Filipinos out of that category each year.
President Rodrigo Duterte is building infrastructure and industries outside the capital region, which accounts for a third of the $314 billion economy, to help narrow the stubbornly wide income gap. To be sure, his efforts are being threatened by the fastest consumer price-gains in at least five years.
More millionaires means opportunities for local lenders, says Stella Cabalatungan, executive vice president at the private banking unit of BDO Unibank Inc., the nation's largest bank. BDO is gearing up for the stiffer competition from offshore private banks by taking on more wealth advisers, as it seeks to boost ties with asset managers locally and overseas.
The central bank has received fresh inquiries from offshore lenders about opening offices locally, Bangko Sentral ng Pilipinas Deputy Governor Chuchi Fonacier said in an interview this week.
Real estate brokers and developers are also enjoying the spoils. Luxury condominiums in Manila's key business districts have been snapped up by the newly rich, with some projects selling out just months after their launch. Ayala Land Inc. is building a high-rise condominium block in the main financial district, and sold the three-level penthouse-with-pool for 477 million pesos ($8.9 million).
Indeed, prime Manila residences are becoming scarce, and with prices nearing the costs of offshore property, the nation's new millionaires are now looking further abroad.
"Manila's a sellers' market, so for the wealthy it's becoming a good idea to go out of the country for property," said Toby Miranda, residential sales manager at Santos Knight Frank, the London-based brokerage's Philippine affiliate. "They're either looking for a good place to invest in or preparing for the time they'll send their kids abroad to study."
Knight Frank has this year marketed London residences to wealthy Filipinos, and partnered with U.S. firm Douglas Elliman Real Estate to offer homes in New York and Los Angeles in May.
Back in Manila, Salcedo Auctions is busy seeking consignments for its September event that it calls "The Well-Appointed Life." As well as artworks, the sale will include fine jewelry, antiques and rare automobiles.
"We expect prices to go up as they do every auction," Salcedo's Lerma said. "The rich will spend to make every part of their life filled with joy."