Why the Coronavirus Is Making It Cheaper to Fuel Planes
(Bloomberg) -- When the coronavirus outbreak forced the cancellation of thousands of flights in China and, in the process, wiped out demand for jet fuel, refiners there did what they normally do in such situations: They looked across the Pacific to California.
The problem is, there was already a lot of fuel on the water. As of late Wednesday, almost 3 million barrels of Asian jet fuel, enough to fill 4,000 Boeing 777-200 airplanes, were headed to California ports, according to data intelligence firm Kpler.
In a sign of just how rapidly the glut is building and spreading across the globe, wholesale prices plunged to a two-year low in Los Angeles this week, before recovering slightly. That's forced shippers to divert tankers away from California to markets from Canada to Chile and even through the Panama Canal.
"The importers look for new homes for their tankers coming from Asia, or they sit at anchor and wait to unload," according to David Hackett, president of energy analyst Stillwater Associates. Meanwhile, he said, U.S. refiners could react by replacing some of the jet fuel they produce with gasoline and diesel, "but there's a limit to their flexibility."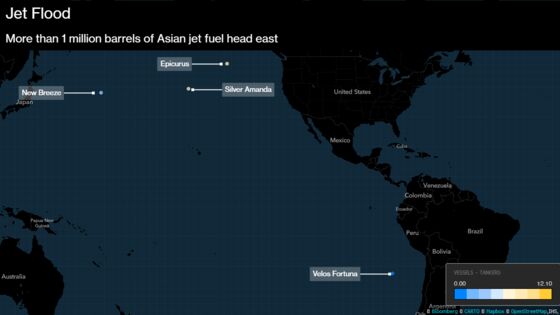 See also: China Crude Imports Fall, Fuel Exports Rise as Virus Hits: Kpler
The jet fuel shipments are just one example of the havoc the outbreak has wreaked across commodity markets. As Chinese state-run refiners cut back operations in the face of plunging demand, crude cargoes from West Africa, Brazil and elsewhere are on sale. A Chinese buyer of liquefied natural gas and a copper imported declared force majeure -- in effect reneging on deals.
The Silver Amanda was diverted from Los Angeles to Vancouver, where the nearby Parkland Fuel refinery is undergoing eight weeks of maintenance, ship-tracking data show. The Epicurus, carrying 507,000 barrels from South Korea, was rerouted from the West Coast to the Panama Canal, according to the data.
Chevron Corp., which supplies Los Angeles International from nearby El Segundo refinery, and California refiner Phillips 66 declined to comment. Marathon Petroleum Corp. did not return a request for comment.
Other ships are heading across the Pacific:
New Breeze, with a capacity for 337,000 barrels, picked up a cargo in South Korea for shipment to the West Coast.
Velos Fortuna, with a capacity of 260,000 barrels, was diverted from the U.S. West Coast to Chile.
Wholesale jet fuel in Los Angeles sank to $1.55 a gallon Feb. 3, down 57 cents from a month earlier, before recovering to $1.69 Thursday, according to data compiled by Bloomberg.
Airports, meanwhile, say they can handle excess fuel up to a point, with Los Angeles and San Francisco boasting a combined 1.3 million barrels of jet fuel storage.
"Although fuel loads are obviously heavy on these long hauls, but these flights are only about 1% of our overall departure flight activity," San Francisco airport spokesman Doug Yakel said by telephone.