Asia Manager Who Called China Tech Peak Is Ready to Dive Back in
(Bloomberg) -- In June, Jian Shi Cortesi said she sold Chinese Internet companies as the sector's valuation had reflected earnings-growth optimism. The MSCI China Information Technology Index had already started its descent, and has lost 34 percent since its January peak.
Now, she has some new calls.
With Asian stocks trading at a near-record discount to their U.S. peers, the portfolio manager at GAM Investments said the time is ripe for selling some defensive stocks and going fishing for opportunities. Her firm oversees about $146 billion in assets globally.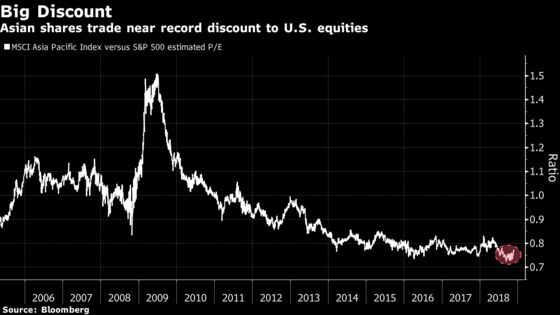 In her hunt for good deals, she's looking at three areas:
Those shares have tanked on policy headwinds, creating an opportunity to buy. While it remains uncertain how the new rules will evolve, the regulation is meant to introduce more order in the sector to prevent things from getting more "messy," according to Cortesi.
"I'm quite sure the Chinese government doesn't want to hurt the Internet industry or make it grow slower or kill it -- I don't think that's the intention," she said. "Internet remains the most interesting place to invest in China."
The Chinese car industry is still growing as demand is fundamentally there, in Cortesi's view. Auto sales this year were depressed as some customers rushed to buy cars in 2017 due to tax breaks, while others delayed big-ticket purchases because of the trade dispute. Sentiment may normalize in 2019 as the government is likely to roll out more support for the industry, she said.
"We saw some auto stocks down over 50 percent because of the shift in sentiment," she said. "Some of them are trading at very attractive valuations. All these bad news will be behind these companies when we roll over to next year."
Because of tensions between China and South Korea, fewer Chinese tourists have visited the neighboring country -- but that's only temporary, according to Cortesi.
"The fundamental demand from Chinese consumers and Chinese women to spend more money on cosmetics has not changed," she said. "And some Korean cosmetic stocks have also come down dramatically."
In her base-case assumption, Cortesi expects the MSCI Asia index excluding Japan to rally about 20 percent next year, mainly thanks to a recovery in valuations. Offshore Chinese stocks are likely to rise a bit more, if the trade tension with the U.S. doesn't deteriorate.
"It's always the best time to buy China or Asia when everything looks bad," Cortesi said. "If we see any progress in trade negotiations next year, that will make investors go from very concerned to less concerned, and that's enough for the multiples to expand, especially given the price level that a lot of companies are trading at."
Here is what other market pros are betting on:
BlackRock Doesn't Expect Significant Growth Slowdown in China
UBS Says Emerging-Market Stocks Should Return Up to 8% in 2019
Aberdeen's Love for Risk Assets Unchanged on Valuation, Growth