Saudi Oil Price Hike Proves No Deterrent in Asia
(Bloomberg) -- Asian buyers will probably take their full contractual volumes of oil from Saudi Arabia for next month on strong fuel demand and improved margins, even after the kingdom jacked up prices to the region. 
Saudi Aramco lifted pricing for all crude grades by more-than-expected to Asia for December after OPEC+ stuck to its plan for a modest restoration of supply, despite calls for it to add more. With demand -- especially for lighter varieties -- at elevated levels, buyers are likely to request full supply, traders said. 
Asian refining margins have surged over the last couple of months as movement and economic activity recovered, while an energy crisis also boosted demand for fuels that can be users for heating and power generation. Cracking margins for gasoline and naphtha have climbed the most, followed by diesel, boosting interest in the less-sulfurous crudes used to produce them.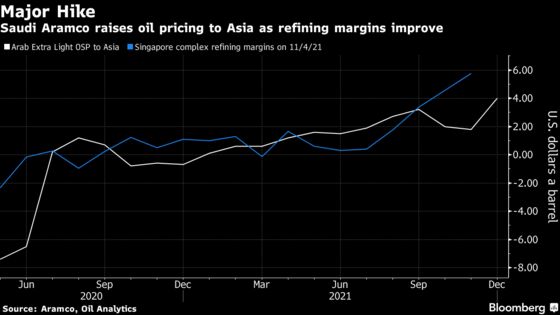 The physical spot market has reflected this, with the lighter Murban's premium over Dubai crude jumping to more than $5 a barrel this month. Spot differentials for Russia's Sokol and ESPO grades also surged in October.
Aramco raised the price for Arab Extra Light by $2.20 a barrel to $4 above the Oman-Dubai benchmark to Asia for December. That's the biggest increase in more than two decades, apart from a $6.70 hike in July 2020 that followed a brief price war. For Arab Light, prices were lifted by $1.40 against the marker, compared with median estimate for an 88 cent increase in a Bloomberg survey.
One reason why Aramco was able to hike prices by so much is that lighter varieties from the U.S., Europe and West Africa are still too pricey for Asian buyers, according to the traders. However, some medium-sour grades like Mars from the U.S. could start finding their way to region, they said. 
Nominations are due Monday and buyers will be informed of their allocations later this week. The Saudis send more than 60% of their crude exports to Asia.