Ascendant Bond Bulls Tussle With Bears as Powell Prepares Encore
(Bloomberg) -- Bond traders battling over how much further the Federal Reserve will go are eyeing another appearance by Chairman Jerome Powell and jobs data to judge if the recent pullback in rate-hike expectations is warranted.
The benchmark 10-year Treasury yield is once again back down around 3 percent and traders have slashed the number of quarter-point increases in the fed funds target that they expect from here, with one anticipated for December and just one more for all of 2019. Bond bears haven't given up though, even after comments from Powell and Vice Chairman Richard Clarida that were interpreted dovishly, and skeptics have warned that downplaying the risk of tightening is ill-advised.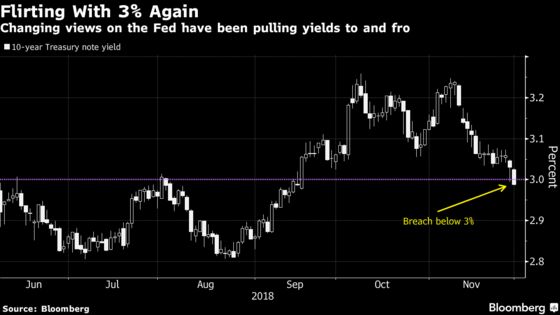 Any further message recalibration during the Fed boss's upcoming Congressional testimony could provide a reason for the market to pivot again and spur traders to reposition. Friday's labor-market data will also be important, especially given the U.S. central bank has made clear its actions ahead will depend on how economic data unfolds. Add to that the prospect of a shift in the global trade landscape following Saturday's dinner meeting between U.S. President Donald Trump and Chinese leader Xi Jinping, as well as the risk of a government shutdown in Washington, and the coming week could prove to be a significant one for the Treasury market.
"The 10-year note is perched at a critical level," said Chris Ahrens, chief market strategist at First Empire Securities in Hauppauge, New York. "We'll resolve this one way or another. And Chair Powell will have another opportunity to sculpt the market's opinion a bit further if he's not happy with how they interpreted his recent remarks."
The yield curve, which many look to as a possible indicator of recession, is also at a potentially vital point too. While the drawdown in Fed expectations has weighed on the front end, parts of the curve have continued to flatten. The spread between 3-year and 5-year Treasury yields at one stage on Friday shrank to less than a basis point, the smallest gap in more than a decade, and a range of strategists continue to predict that the curve will invert.
The 10-year yield fell about 5 basis points in the past week to close at 2.99 percent Friday, while the gap between 2-year and 10-year debt -- a widely watched curve metric -- touched as little as 19 basis points, the least since August.
While traders joust over just how to read recent Fed rhetoric, forecasts from Wall Street economists have also diverged. Analysts at Barclays Plc and JPMorgan Chase & Co. continue to predict four Fed hikes in 2019 -- which is even more than the median projection of Fed officials from September. On the other hand, Tiffany Wilding, U.S. economist at Pacific Investment Management Co. sees only two, while Han de Jong, chief economist at ABN Amro Bank NV projects just one.
With the tone from Fed officials having shifted and signs of potential economic deceleration in housing data and weekly unemployment claims, Societe Generale SA's Kit Juckes reckons the monthly jobs report will once again become a bigger focus for markets.
"We're back to that age-old game of watching the monthly payroll data for signs of change," Juckes, a London-based fixed-income strategist, wrote in a note Friday. "So far, they've been a model of resilience. There are no signs of weakness in U.S. consumer demand but profit growth is slowing and if the labor market follows, we'll be left scrambling to revise our growth expectations down with the fall in bond yields."
What to Watch In the Coming Week
Jerome Powell's comments to Congress Wednesday will be the highlight of an array of Fed speakers on the agenda

Dec. 3: Vice Chairman Clarida being interviewed on Bloomberg TV; Vice Chairman for supervision Randal Quarles speaks at Council on Foreign Relations in New York; New York Fed's John Williams and Fed Governor Lael Brainard speak at conference on Treasury Market in New York; Dallas Fed's Robert Kaplan speaks in Laredo, Texas
Dec: 5: Powell to testify before Joint Economic Committee in Washington; Williams holds press briefing; Quarles speaks at Stanford
Dec. 6: Powell delivers welcoming remarks at a housing conference in Washington; Atlanta Fed's Raphael Bostic speaks in Atlanta; Williams speaks with former Bank of England Governor Mervyn King in New York
Dec. 7: Fed Governor Lael Brainard speaks at Peterson Institute in Washington

For economic data, the focus is on Friday's U.S. jobs report and trade figures Thursday

Dec. 3: Markit manufacturing PMI; construction spending; ISM manufacturing; vehicle sales
Dec. 5: MBA mortgage applications; ADP employment; Markit services PMI; construction spending; ISM non-manufacturing index; Fed Beige Book
Dec. 6: Challenger job cuts; trade balance; jobless claims; Bloomberg consumer comfort gauge; factory orders
Dec. 7: Payrolls and wage data; wholesale inventories; University of Michigan consumer sentiment gauge; consumer credit

Here's the schedule for Treasury's auctions, which includes a shift to the pattern for four- and eight-week bills that results in two sets of sales at each of those tenors

Dec. 3: $39 billion of three-month bills; $36 billion of six-month bills
Dec. 4: Four- and eight-week bills; $26 billion 52-week bills
Dec. 6: Four- and eight-week bills