As Warm Winter Leaves Ski Slopes Bare, France Promises Aid
(Bloomberg) -- After slamming a French ski resort in the Pyrenees for helicoptering in snow to cover its bare slopes, French Environment Minister Elisabeth Borne is promising to help mountain resorts deal with the effects of climate change and ever-warmer winters.
In a "constructive" meeting with Borne late Thursday, ski-industry representatives agreed airlifting snow isn't sustainable and best avoided, said Laurent Reynaud, general delegate at industry group Domaines Skiables de France. The government will put together a plan in the next six months for affected mountain resorts, it said after the meeting.
"Climate change is already a reality in our resorts," said Reynaud. He said Borne understands the stakes, and the meeting allowed for a broad discussion on how to make mountain resorts sustainable. "It's not enough to say, 'there will be less snow.' We have to adapt, we have to change."
France is one of the world's three top skiing destinations with around 10 million annual visitors, vying for the lead with Austria and the U.S. Record-warm temperatures this winter mean French mountain slopes often received rain instead of snow, sometimes at very high altitudes, according to weather office Meteo-France.
Skiing is big business for the country, with tourists expected to spend 10 billion euros ($10.8 billion) at French resorts this season, including 1.5 billion euros on lift passes, according to Reynaud. While some resorts are without snow, he said the situation is normal for 80% of them.
Snow cover in the western three-quarters of the Pyrenees mountain chain is "very much in deficit," Meteo-France said on Thursday. In the Alps, there's "clearly" a shortfall of snow below 1,700 meters (5,577 feet), though cover is "very satisfactory" at higher altitudes.
The Pyrenees ski area of Luchon-Superbagneres a week ago airlifted 50 tons of snow to save its winter season. Borne tweeted her disapproval, saying the practice "is not a possible route," while Junior Environment Minister Emmanuelle Wargon said bringing in snow by truck or helicopter shows it's time to change the model.
Georges Meric, who heads the department of Haute-Garonne and approved the airlift, said the move was a last-ditch measure to keep Luchon-Superbagneres's ski schools and beginner slope open, helping preserve 50 direct jobs and several hundred indirect jobs.
Meric, who attended the meeting with Borne, said it's regrettable she didn't propose anything concrete to help resorts facing climate change.
French mountain resorts account for about 120,000 jobs, Domaines Skiables says. More than a third of the world's ski resorts are in the Alps, with France's La Plagne the biggest by number of skier visits, according to the International Report on Snow & Mountain Tourism by consultant Laurent Vanat.
Reynaud said that while he doesn't know what the government will propose in six months, France can help finance development of alternative slope-preparation technology, invest in lifts that bring tourists up from the valleys and reduce polluting car traffic, and pay for building renovations to cut carbon emissions.
At the Col de Porte mountain pass near Grenoble, the site of the 1968 Winter Olympics, average snow depth in the past three decades is down about 40% from the 1960-1990 period, according to Meteo-France. In the Pyrenees, where average temperatures increased by 1.2 degrees between 1959 and 2010, snow depth at 1,800 meters could fall by half by 2050.
The start of the winter in France has been the second-warmest since at least 1900, behind only the 2015-16 season, according to Meteo-France. In the Alpine town of Chamonix, which hosted the first Winter Olympics in 1924, temperatures in the first two months of winter were the highest going back to at least 1935.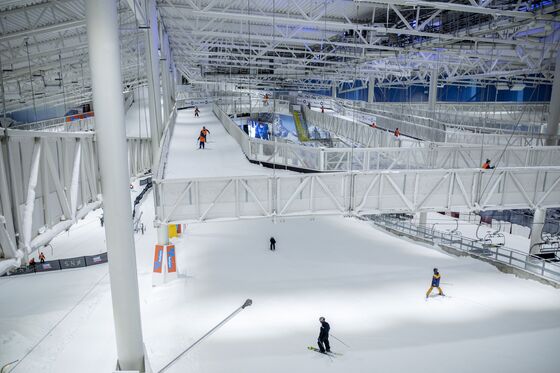 It's not just France. Norway is having one of the worst ski seasons ever, as Europe's Copernicus Climate Change Service reported January temperatures in some areas of northeastern Europe were more than 6 degrees above the 1981-2010 average. More than 7,000 kilometers away, Japan's ski resorts are suffering through one of the worst snow seasons on record.
Though winters with very little snow have become more common and will be even more so in coming decades, skiing will remain viable in France for at least the next 30 years, Reynaud said. Slope preparation and snow making can preserve downhill runs, though resorts most exposed to climate change will face "very strong constraints," he said.