As Virus Worsens Outside London, U.K. Rushes to Create Hospitals
As Dan Harmer stood in the middle of a massive exhibition hall in Birmingham, England a couple weeks ago, he was astonished at the task he was about to undertake -- building the first phase of a 4,000-bed hospital to treat coronavirus patients from scratch in nine days.
He would need to track down 64 miles of cable, 10 miles of copper piping, enough vinyl flooring to cover 11.5 soccer fields and metal for the bed bays that would stretch over 22 kilometers.
"The gravity of the whole thing hit me as we stood in the middle of the exhibition hall," Harmer, who works as a project manager for Interserve, said in a phone interview. "Some of the guys were doing 16-18 hours shifts. I hope we have done our bit for the region."
Harmer was tasked to help build one of the first of the country's so-called Nightingales. Named after Florence Nightingale, the hospitals are assembled in pre-existing buildings and are one of the U.K.'s main tools to fight the growing coronavirus outbreak.
Prime Minister Boris Johnson, who is suffering with Covid-19, hailed the first Nightingale in London's docklands as a major breakthrough in treating virus victims. The government is rushing to roll out more of the facilities and said Friday that one will be built in the North East of England, where new cases are surging. It's a sign that even as cases may be peaking in major cities already chosen for the facilities, more regions will find their medical capacity tested to the limit.
"What we're dealing with is different epidemics in the country," said John Ashton, a medical doctor and former president of the Faculty of Public Health. "Until a week or two ago, you could have said in the North East you could have contained it by being forensic, by identifying cases and quarantining, but it looks like now it's got out of the bag."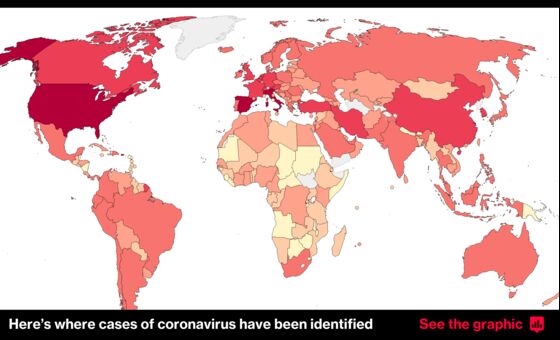 While London and the Midlands, home to Birmingham, the U.K.'s second-largest city, have seen the greatest number of cases, the amount of people hospitalized in those regions shows signs of peaking. The number of people in hospitals with Covid-19 is now accelerating fastest in the North East, where the new 460-bed hospital will open.
"It's a sobering thought that this facility will be needed and shows just how seriously individuals and businesses need to take this issue," Sharon Hodgson, a Labour MP for Washington and Sunderland West said in a statement. In the same area, Covid-19 also shows a significant number of cases in Middlesbrough and there are signs it's accelerating in South Tyneside and Sunderland, according to an analysis by Edge Health, a London-based health care consultancy.
Inhabitants in the North East tend to have a higher than average incidence of lung disease partly as a result of asbestos-related illness and higher than average smoking, making them particularly vulnerable to serious complications from the coronavirus. Deaths from mesothelioma, a cancer that commonly affects the lung and the chest, killed 101.7 per million people in the region in 2017 compared with 68.2 in the rest of the country.
Chi Onwurah, an opposition lawmaker from Newcastle upon Tyne in the North East, had voiced concerns on Thursday that the area did not have a Nightingale hospital. She asked the government to make sure that the underlying health of the local populations is being considered in planning where to build the facilities.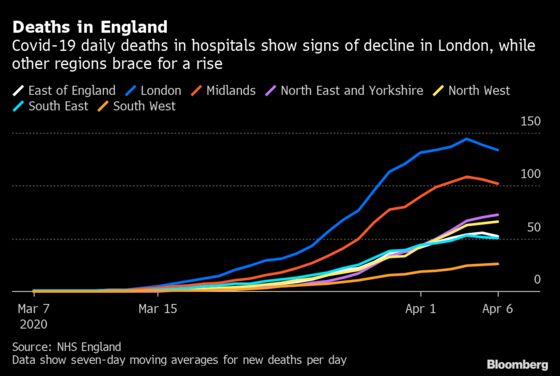 An influx of people who de-camped to spend the national lockdown at the seaside could further strain resources. The country's tourism minister Nigel Huddleston urged people to stay at their primary residences after media reports that Airbnb Inc. hosts were marketing listings as isolation retreats. On Wednesday, the bookings website said they would limit new bookings throughout the country except for key workers and other essential stays in line with government guidance.
In the South West, which has the highest proportion of people 65 and above, local officials worry that hospitals could be overwhelmed by an upswing in cases. Selaine Saxby, a Conservative MP for the region's North Devon area, said that the hospital in her area had stopped all routine operations to free up 140 extra beds.
Modeling by Devon's health service suggested University Hospitals Plymouth Trust could have as many as 5,500 critical care patients during the expected peak of Covid-19 in the three months through June, a 13-fold increase on the typical quarter, news service HSJ reported on Monday. A spokesman for Devon Clinical Commissioning Group told the publication that the figure was heavily caveatted and "out of date."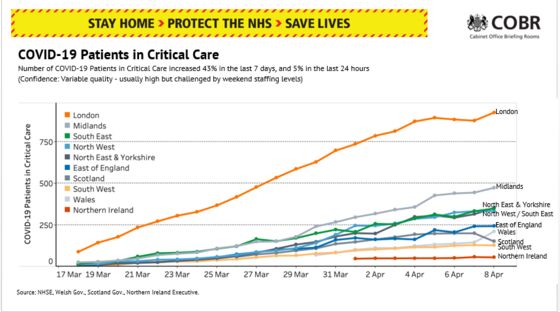 There are some plans to build a Nightingale hospital in nearby Exeter, Saxby said. Still, that may not be an ideal solution. Unlike densely populated urban centers like London and Birmingham, residents of the South West are much more spread out and would have to travel long distances to any field hospital.
"Our intensive care unit is quite small," Saxby said. "It's designed for the normal native population. We're used to a tourist influx in the summer A&E, with surfers coming in after banging their heads on surf boards. But you don't expect your normal tourists to need intensive care."