As Tiny Underwriters Die, Brothers' Deal Keeps Firm in Family
(Bloomberg) -- McLiney and Company, a Kansas firm that's been run by the same family for 54 years, is joining the ranks of small, stand-alone municipal-bond underwriters that are disappearing as Wall Street Goliaths expand their dominance of the $400 billion-a-year business.
But under a deal struck to merge with a rival, it's not entirely losing its blood ties.
The Mission, Kansas-based McLiney, which was founded in 1965 by the son of municipal-bond banker George McLiney Jr., said on Tuesday that its seven employees would join Samco Capital Markets, a larger underwriter based in Austin that specializes in Texas debt.
Joey McLiney, who helps lead McLiney's underwriting with his brother Eddie, said the deal was struck after the firm received a proposal from another that was ultimately rejected. That led their brother Mark, a senior managing director at Samco, to suggest that tie up instead.
"My brother Mark McLiney said, 'Hold on a minute, if you're considering selling, why don't you talk to us?'"
Small firms like McLiney have been exiting the business or merging with rivals amid pressure on underwriting fees and competition from larger banks. There were only about 100 firms that underwrote at least one bond deal this year, down from over 150 in 2010, according to data compiled by Bloomberg.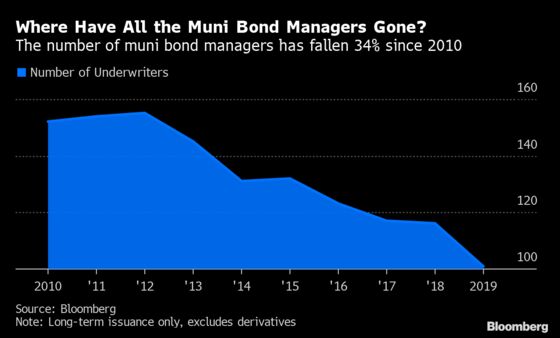 The McLiney's have a long history in the municipal market, beginning with George, who helped start George K. Baum's business in 1928. Joey said he always wanted to work with his brother Mark, who unlike his other siblings never joined the family business. The two firms ended up making a deal after a steakhouse dinner in Texas.
Samco, the 32nd largest underwriter of state and local debt, has underwritten nearly $1.2 billion of long-term debt this year, according to data compiled by Bloomberg. McLiney is credited as underwriting just $6 million.
Joey, who served as both a banker and chief compliance officer, said he found regulatory rules to be a burden as the firm tried to win new business. He said he's glad the McLiney name will live on with the deal because the firm expects to keep its brand and focus on Kansas and Missouri clients.
Joey said he's trying to convince his son to join the industry, and his nephew has already said he will. There are already six McLineys listed in Samco's directory of team members, so they may end up adding at least one more.
"To be able to work in an industry where the same family, the same last name, has worked for the same community, is exceptionally appealing," he said.