As Texas Sweats, Power Demand Poised for Record and Prices Climb
(Bloomberg) -- Texans blasting their air conditioners to combat the hottest temperatures of 2018 are expected to set a power-demand record Tuesday, and the sweltering heat has already sent wholesale electricity prices to their highest level in three years.
Temperatures are forecast to soar as high as 105 degrees Fahrenheit (41 Celsius) Tuesday, according to the National Weather Service. That sent the wholesale price for Dallas from 5 p.m. to 6 p.m. local time Tuesday to $841 a megawatt-hour, the most since August 2015, based on day-ahead trading. Grid-wide demand is likely to top a 2016 record Tuesday, the Electric Reliability Council of Texas Inc. said, adding the system is running "as expected."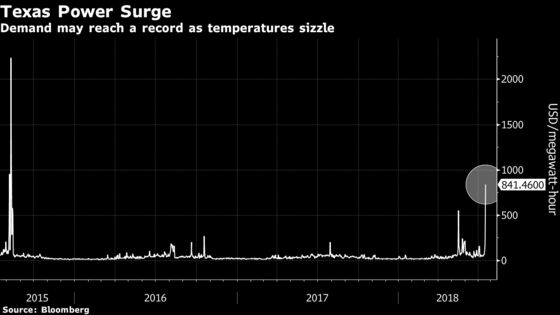 It's already been an expensive July for the Texas grid, with day-ahead prices from 5 p.m. to 6 p.m. in Dallas averaging $125.98 a megawatt-hour, almost double the July average for 2017 and the most for the month since 2011.
The last time prices were higher was Aug. 10-11, 2015, when wholesale power reached $2,233 a megawatt hour. During that heat wave, the mercury touched 107 degrees in Dallas and demand peaked at 69,800 megawatts, according to Genscape Inc. which monitors power markets. Accuweather.com forecasts Dallas will reach 107 degrees July 20 as the heat settles in.