As Tesla Shares Go Up in Smoke, Short Investors Go to the Bank
(Bloomberg) -- Not everyone looking at Tesla Inc.'s implosion this week is unhappy.
Investors with a bearish bet on the stock, aka the short sellers, whom Elon Musk wanted to "burn," are reinvigorated after the electric vehicle maker's latest public relations disaster, coupled with the rapid exits of two high-profile executives, according to financial analytics firm S3 Partners LLC.
Tesla shares have been on a roller-coaster ride this year, and its short sellers have been in the red for most of 2018, but "this week they've turned profitable," Ihor Dusaniwsky, head of research at S3 Partners, said, adding that the firm has seen renewed short activity in Tesla over the last week. More such selling emerged on Friday's news and price move. Tesla's short interest had reached a new high of $14 billion in mid-June and has since declined by more than a third in less than three months.
Activist short seller Andrew Left sued Tesla on Thursday, claiming Musk manipulated Tesla's stock price to squeeze shorts and, in the process, hurt all buyers of the company's shares by issuing false and misleading information. An analysis by S3 shows he has lost about $2 million in both realized and unrealized losses.
In the month since Musk's now infamous "going private" tweet, Tesla has lost nearly one-third of its value, prompting even long-time bullish analysts to urge the board to consider major changes to its executive lineup and relieve the CEO of some of his "banal" day-to-day duties of running a public company.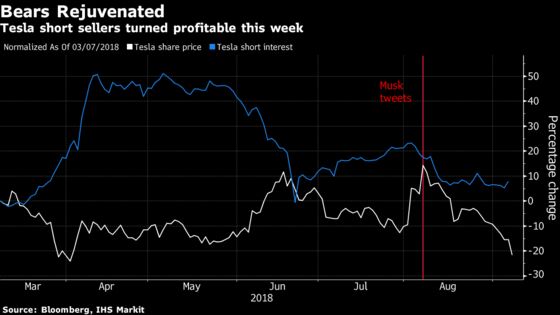 An almost imperceptible ray of hope is that Tesla's share price is fast approaching a technical support level that the stock has not breached since January 2017, though it might be of little consolation to long investors caught in an avalanche of terrible news.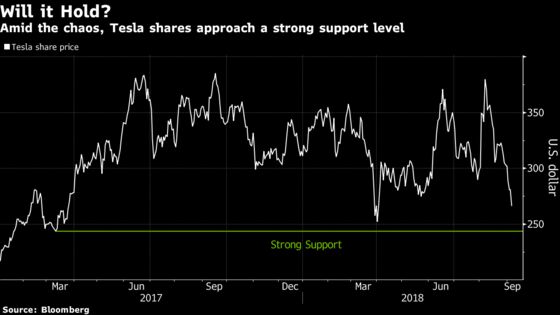 What happens next, to both the share price and the hefty short bets in the stock, will depend on the actions taken by Tesla's board and Musk. "Tesla short interest may decline to $5 billion or increase to $15 billion -- its board's actions or inactions will be the driving force," Dusaniwsky added.