As Tesla Bond Comes Due, a Chinese Challenger Plans Similar Debt
(Bloomberg) -- With time running out for Tesla Inc. to avoid having to pay off a $920 million bond in cash, an electric-vehicle challenger in China is planning to issue similar securities that would start its own debt clock.
NIO Inc. expects to price a $650 million sale of five-year convertible bonds Wednesday after the close, according to terms obtained by Bloomberg. That's the same type of debt Tesla has coming due March 1 -- a $920 million convertible that the company issued back in 2014.
Tesla will only be able to exchange the note for a mix of cash and equity if a weighted 20-day average of its share price jumps about 21 percent from where the stock closed earlier this week. The debt payment will be the largest in the company's history and may take a big bite out of Tesla's cash just as Chief Executive Officer Elon Musk is warning of a "very difficult" road ahead.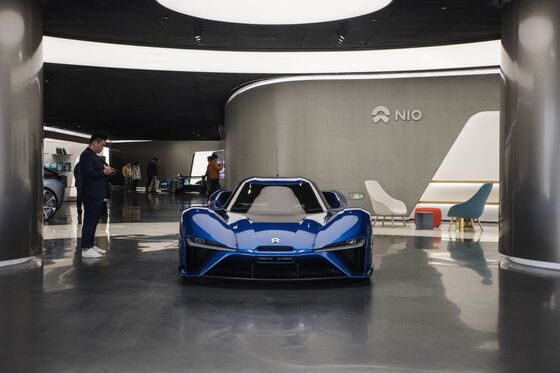 NIO, based in Shanghai, is marketing bonds with a coupon in the range of 3.5 percent and 4 percent. As was the case for Tesla, the company will have the option of settling in cash, stock or a combination.
NIO was founded just four years ago and pulled off a U.S. initial public offering in September, three months after starting deliveries of its first electric model, the ES8 sport utility vehicle. The company may report about $420 million in revenue for the fiscal year that ended in December, a far cry from the $21.3 billion analysts expect from Tesla for the same period.