New Jersey Governor Murphy Criticized for Storm Response
(Bloomberg) -- Spillover from early New York City-area snow led to a second-straight commuting horror Friday for New Jersey mass-transit riders as some lawmakers called for a review of how Governor Phil Murphy handled his first major storm.
New Jersey Transit passengers to Manhattan faced delays of 90 minutes or more after some had endured six-hour bus, train or road journeys home a day earlier. NJ Transit, the nation's largest statewide mass-transportation provider, said staffing shortages due to overtime were contributing to the problem.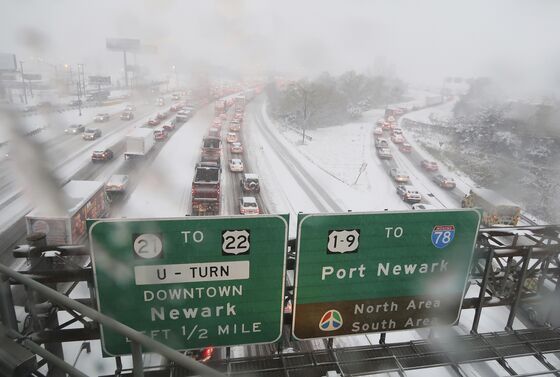 Rail service on the North Jersey Coast Line was suspended because of downed electrical wires, and buses were late. At New York's Metropolitan Transportation Authority, Metro-North trains were delayed by up to 25 minutes, and some Long Island Rail Road service also was late.
Murphy, at a news conference in Fords, said sub-freezing temperatures expected Friday night remained a threat after daytime thawing, and more than 9,000 utility customers were without power, mostly in Monmouth County. Highway crews will continue to work through Saturday morning, according to Diane Gutierrez-Scaccetti, the transportation commissioner.
Mass Confusion
"Unfortunately, the worst of the storm coincided with the early dismissals from schools and workplaces," Murphy said. "Just when we needed our road crews and all that equipment the most they were competing -- understandably, by the way -- with folks trying to get back home."
New Jersey state Senator Joe Cryan, a Democrat from Union County, said the storm had put thousands of people "in potentially dangerous weather-created environments." In a Facebook post, he said he had called the governor's office to request a review of storm procedures.
"A review would be a great idea," Assembly Minority Leader Jon Bramnick, a Republican from Westfield, said by telephone. "You can't say the problem is the weatherman was wrong."
Gutierrez-Scaccetti promised a post mortem. Until midday Thursday, she said, the transportation department had expected 4 inches of snow. She apologized for not getting the roads clear even with 1,800 pieces of equipment on the job. The crews were hampered in part by motorist breakdowns and crashes, with state police alone handling 1,000 accidents and 1,900 requests for aid.