With Carlos Ghosn Set to Bare All, Nissan Prepares Its Offensive
(Bloomberg) -- Nissan Motor Co. and Carlos Ghosn are back on a collision course.
The Japanese automaker is preparing for a renewed legal and public relations battle against its former chairman and chief executive officer as Ghosn vows to hit back at the company he turned around two decades ago, but which he blames for engineering his downfall. Ghosn will hold a news conference Wednesday in Beirut, where he fled to escape trial in Japan on charges of understating his pay and misusing company money.
Nissan has already spent more than $200 million on lawyers, investigators, and digital forensics in its investigation of Ghosn and former executive Greg Kelly, people with knowledge of the matter said, asking not to be identified because the information isn't public. Arrested in November 2018, Ghosn and Kelly -- who both deny wrongdoing -- were set to stand trial this year. That's now looking unlikely without the main defendant, thrusting the conflict into the public arena and possibly the Lebanese courts. Ghosn is seeking to salvage his legacy, while Nissan faces pressure to justify the turmoil brought on by its decision to investigate its leader and try to help prosecutors convict him.
With Ghosn expected to name the people behind what he says was a plot to halt his plans to more closely integrate Nissan with alliance partner Renault SA, the Japanese company is going on the offensive, according to people familiar with its intentions.
Nissan's first order of business may hit close to home for the fugitive Ghosn. He still has access to an elegant pink villa in Beirut that Nissan purchased for $8.75 million, renovated and furnished for him, according to a person familiar with the matter. Nissan views Ghosn's continued use of the house as illegitimate, and wants him evicted, the person said. Ghosn's representatives have resisted efforts to dislodge him through the courts, arguing the house was part of a retirement package to which he's legally entitled.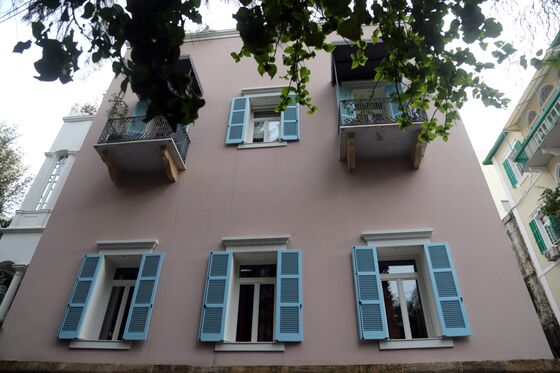 The carmaker also is looking at bringing legal action against Ghosn in Lebanon, the people said, to recover money it says he used improperly.
Nissan's capacity to retaliate against Ghosn is considerable. As well as the millions spent on lawyers, it hired computer experts to sift through 6 million emails -- stretching back to when Ghosn first came to Nissan in 1999 -- at the request of Japanese prosecutors, a person with knowledge of the probe said.
The automaker also engaged private investigators in the Middle East, who have been working for months to unearth potentially damaging material on the former executive, according to people familiar with the moves, asking not to be identified because the information isn't public.
"Ghosn's flight will not affect Nissan's basic policy of holding him responsible for the serious misconduct uncovered by the internal investigation," the Yokohama-based carmaker said Tuesday, in its first public statement since Ghosn fled. Nissan "will continue to take appropriate legal action to hold Ghosn accountable for the harm that his misconduct has caused."
Nissan is continuing to plow time and money into pursuing Ghosn even with its business in crisis. Sales and profits have slumped, and the company is set to axe 12,500 jobs as it tries to keep up with the dramatic shifts in the global auto industry. Ghosn's arrest also hurt its alliance with top shareholder Renault, bringing long-standing tensions to the fore.
Azusa Momose, a spokeswoman for Nissan, declined to comment on the company's plans for Ghosn and whether it will take legal action in Lebanon. Representatives for Ghosn didn't respond to requests for comment. Nissan said Tuesday that its "internal investigation found incontrovertible evidence of various acts of misconduct by Ghosn, including misstatement of his compensation and misappropriation of the company's assets for his personal benefit."
Ghosn was arrested more than a year ago at Tokyo's Haneda Airport, kicking off a legal saga that saw him detained for months in solitary confinement before being released on bail, re-arrested and released again. Ghosn was facing trials that could land him in prison for more than a decade when, on Dec. 30, he fled to Lebanon to escape what he described as a "rigged Japanese justice system." The country doesn't have an extradition agreement with Japan.
The former auto executive, who has Lebanese, French, and Brazilian citizenship, plans to name the people he believes are behind a "coup" to take him down, including some in the Japanese government, at Wednesday's press briefing, according to Fox Business Network's Maria Bartiromo, who said she spoke with Ghosn last weekend.
With its business in jeopardy and shares down almost 40% since Ghosn's arrest, Nissan is rife with internal divisions over his ouster. Makoto Uchida, who became CEO last month, has a long list of challenges. A top deputy abruptly quit, the company withdrew its dividend outlook in November, and it is under pressure to refresh an aging product lineup. Uchida declined to comment on Ghosn or his escape at a New Year's reception in Tokyo Tuesday for Japan's major business groups.
Nissan doesn't have time to spend more money pursuing Ghosn, said Koji Endo, an analyst at SBI Securities Co. in Tokyo.
"Nissan's current focus should be to carry out major restructuring immediately following a sharp earnings fall and a dividend cut," he said.
Ghosn arrived at Nissan when Renault took a one-third stake in the struggling company. Dubbed "Le Cost Killer," he slashed jobs, cut expenses and restored profitability, eventually becoming CEO of both Nissan and Renault and forming a global auto alliance that now includes Mitsubishi Motors Corp.
In a letter to Nissan's employees Tuesday, Uchida urged workers to focus on the job at hand.
"Unfortunately, media coverage on the past executive misconduct will continue for a while," the CEO wrote in the email, which was seen by Bloomberg News. "We can only revive Nissan by everyone contributing and working as one team."