As California Chafes Under Lockdown, Governor Targets the Beach
(Bloomberg) -- California Governor Gavin Newsom has taken the fight against the coronavirus to a place nearly sacred in his state -- the beach.
Newsom on Thursday ordered beaches closed in Orange County, south of Los Angeles, after a heatwave last weekend lured crowds of sunbathers there. He pointedly targeted just one coastal county, saying beaches elsewhere hadn't seen the same numbers of people blatantly violating social distancing.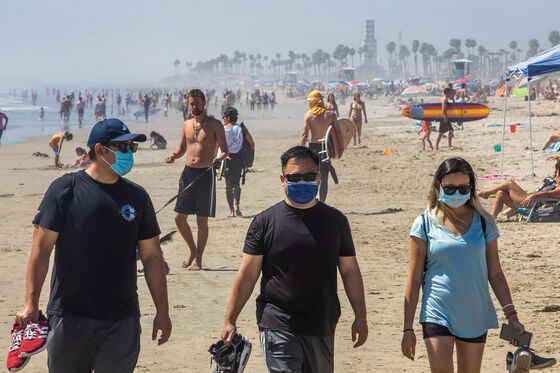 "It's the same reason we are not reopening arenas, with tens of thousands of people," Newsom said during his daily virus update with reporters. "We don't want to have beaches with tens of thousands of people mixing for the same reason -- that doesn't keep people healthy."
The move comes as many Californians grow impatient with the state's virus lockdown, now well into its second month. Although polls have shown a majority of California residents support the restrictions, they are eager to see them end. And yet, the number of coronavirus cases confirmed in the state experienced its biggest one-day jump so far on Wednesday, with 2,417 new cases reported. The virus also killed 95 people in California Wednesday, bringing the total death toll to 1,982.
Tesla Inc. Chief Executive Officer Elon Musk vented his frustration with the orders in a profanity-laced outburst Wednesday.
"This is fascist. This is not democratic. This is not freedom," Musk said on a conference call with financial analysts to discuss Tesla's latest quarterly results. The ban on non-essential businesses has kept the company's auto factory in the San Francisco Bay area idle since March 23. "Give people back their godd--- freedom," Musk said.
Newsom shrugged off Musk's comments Thursday. "Good people can disagree," he said. "We've been guided by science, data, facts."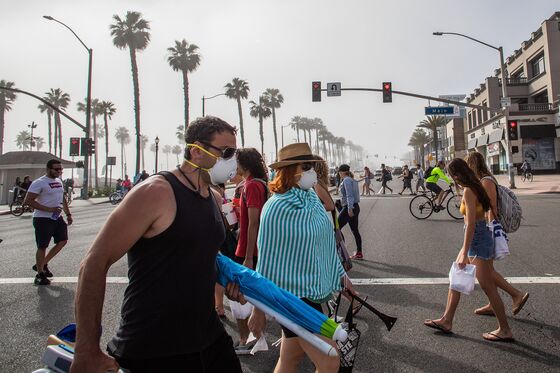 The beach order angered some Orange County officials. Michelle Steel, chairwoman of the county's board of supervisors, called it "a clear example of unnecessary government overreach" in a statement posted online.
In California's far north, rural Modoc County stood poised to challenge the state's orders. The county's sheriff's department posted online a plan to let local businesses, schools and churches reopen Friday so long as they can maintain social distancing and proper sanitation. It was signed by five county officials, including the sheriff, health officer and chairwoman of the county's board of supervisors.
Newsom said Thursday that the state's restrictions superseded Modoc County's plan. He did not say whether the state would take any enforcement action if Modoc businesses reopen.
"I'll just remind people, look what happened in Japan, look what happened in Singapore, look what happened in China," he said. "When you pull back too quickly, you literally put peoples' lives at risk."