BofA's Risk Wariness Doesn't Sit Well With Some Executives
(Bloomberg) -- Leadership changes are starting to ripple through Bank of America Corp.'s investment bank as disagreements over risk-taking and a struggle to keep pace with competitors on U.S. merger advisory spur high-level departures.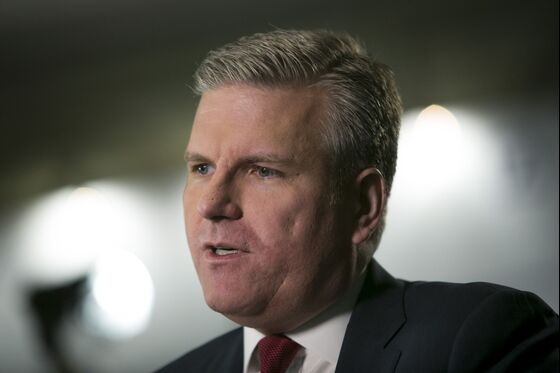 Christian Meissner this week said he's stepping down as head of the corporate and investment-banking division he led through the tumultuous years after the financial crisis. The departure was prompted by tensions over the bank's appetite for risk and its struggle to retain market share advising on U.S. mergers, according to people with direct knowledge of the matter. More executives may follow Meissner's lead, they said.
"That is not what the investment bankers signed on to be; they wanted to be 'masters of the universe' and make big bucks," said Roy Smith, emeritus professor of management practice at New York University's Stern School of Business. "They didn't sign on to be low-risk public utilities."
Behind the scenes, Meissner was at the center of a fierce debate as the firm reassessed -- and ultimately reined in -- the exposure it's willing to take on certain deals after getting burned on a large margin loan.
In merger advisory, fees at Bank of America tumbled more than at any other major U.S. lender earlier this year. The company ranks seventh in the business in North America this year, unchanged from 2017, according to data compiled by Bloomberg. The bank, which was third in 2016, lags behind advisers including Barclays Plc and Evercore Inc. this year. The region is the largest market for mergers globally, accounting for $1.3 trillion of the $2.4 trillion in announced deals.
Chief Executive Officer Brian Moynihan raised problems with the North American mergers-and-acquisitions business as part of a broader review at a meeting of top management in Boston in June, one of the people said. Moynihan said in July after earnings were released that his bankers were working to improve revenue and "can do a better job" in M&A. The CEO singled out emerging markets as one area where he's reluctant to push the risk envelope, some of the people said.
The firm got gun-shy in the wake of about $300 million of losses from its dealings with Steinhoff International Holdings NV, taking the banking industry's biggest hit from an accounting scandal that sent the South African furniture retailer's shares into a tailspin. Bank of America began an intense internal investigation that's stoked anxieties among many top managers, making them skittish that missteps could subject them to similar scrutiny, according to people familiar with the matter. The loss also elevated the clout of risk managers within the bank.
Bank of America declined to comment. In June, a spokesman said departure rates have been normal and the firm hasn't had trouble attracting new talent.
The bank's standing has slipped in the market for risky corporate loans, typically used to fund highly leveraged buyouts and takeovers. As companies sold a record $1.71 trillion of such debt to institutional investors in the U.S. the past two years, Bank of America fell from the top of the table to third behind JPMorgan Chase & Co. and Goldman Sachs Group Inc., according to data compiled by Bloomberg.
The jostling among banks, upstart lenders and boutique investment banks for a share of those fees has led to a loosening of lending standards, tying the hands of heavily regulated banks such as Bank of America.
Every major U.S. lender except Bank of America posted higher investment-banking fees from a year earlier in the second quarter, with Morgan Stanley's 20 percent climb leading the pack. Both Goldman Sachs and Morgan Stanley said they had large deal backlogs, indicating more fees are coming.
Meissner, a veteran of Goldman Sachs Group Inc. and Lehman Brothers Holdings Inc., joined Bank of America in 2010. He became co-head of the division in 2011, and its sole head in 2012.
He will be succeeded by Matthew Koder, a senior executive in Hong Kong, who will relocate to New York. Koder will work with Meissner in coming months to carry out the transition, according to an internal memo this week. The bank plans to name its next president for the Asia-Pacific region shortly, it said.
Koder, an Australian, has a reputation of adhering to Bank of America's low tolerance for risk. In 2017, the bank removed itself from transactions involving Chinese conglomerate HNA Group, in part due to its opaque structure.
In an internal email, the directive from Koder to fewer than five bankers included the phrase, "We simply don't know what we don't know, and are not prepared to take the risk."