Bribery Probe Hurts One of Southeast Asia's Biggest Projects
(Bloomberg) -- The home of Lippo Group's Deputy Chairman James Riady was searched by anti-graft officials, the latest development in a bribery probe that has entangled one of Indonesia's leading business conglomerates and thrown into doubt the future of a major development project touted as the "Shenzhen of Indonesia."
The nation's Corruption Eradication Commission, known as KPK, conducted a search on 10 locations on Wednesday including Riady's home and the house of a senior executive at Lippo Group who was arrested, KPK spokesman Febri Diansyah wrote in a text message. The agency secured documents related to permits, financial records and electronic devices.
The moves followed the detention of the Lippo Group director, along with another employee, two consultants and government officials from the Bekasi regency in West Java province this week in a bribery case related to the development of the project. It is called Meikarta.
"Given all these headlines regarding permits issues, we are concerned about the sustainability of the Meikarta project, both from sales as well as funding concern," Trung Nguyen, a senior credit analyst at Lucror Analytics Pte, wrote in a report.
Nguyen wrote that the credit bias for the group remains "negative" given the deterioration in its financial profile, as well as issues such as permits and the bribery case.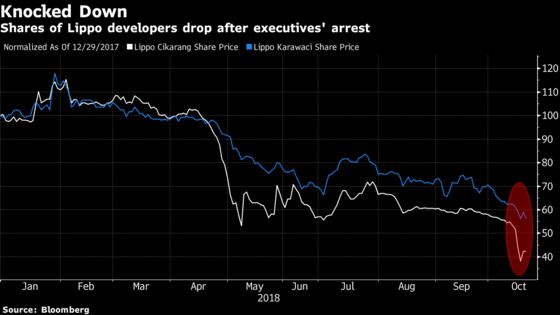 "We confirm that a search did occur at James Riady's residence," Sylvia McKaige, a spokeswoman for Riady, wrote in an emailed statement. "There were no documents or items found or seized in relation to the case. Mr. Riady remains fully committed to assisting the KPK in their efforts as is necessary."
The Meikarta bribery case may cause investors to become cautious as it follows KKR & Co.'s struggle to protect its investment in Indonesia's PT Tiga Pilar Sejahtera Food and Goldman Sachs Group Inc.'s court battle with PT Hanson International. The arrests may bolster President Joko Widodo's image as being tough on corruption ahead of a presidential election scheduled for early next year.
This is the second time Lippo has become involved with the anti-corruption agency, which identified the director only as "BS." Local newspapers Bisnis Indonesia, Jakarta Post and Kompas identified him as Billy Sindoro. Sindoro was sentenced to three years in prison in 2009 for bribing Indonesia's antitrust agency, according to KPK.
While the alleged bribe of 13 billion rupiah ($857,011) is tiny compared with the millions in alleged illegal kickbacks in the national electronic identity card contract program in 2010 and the bailout of PT Bank Century in 2008, it highlights the difficulties that companies face in navigating the approval system for projects in Indonesia.
The planned 278 trillion-rupiah development, covering 22 square kilometers of the Bekasi-Cikarang district on the outskirts of Jakarta, is the largest undertaking in Lippo's 68-year history. It would provide access to what would be the first high-speed train in Southeast Asia and gardens modeled on Manhattan's Central Park. The group has said the project will be jointly funded by partners such as Mitsubishi Corp., Toyota Motor Corp. and Sanko Soflan Holdings.
The project, developed by PT Lippo Cikarang's unit PT Mahkota Sentosa Utama, has already completed residential towers and pre-sold thousands of units.
PT Bank Negara Indonesia, the country's fourth-largest lender by assets, has decided to stop extending new mortgages for the project, according to director Tambok Simanjuntak. The bank has exposure to the project through some 200 customers with around 50 billion rupiah worth of home loans.
"We will stop the application process for new customers until the legal process is finalized or we get some clarity on the issue," Simanjuntak told reporters on Thursday. "For the existing customers, we will conduct a review from the legal perspective."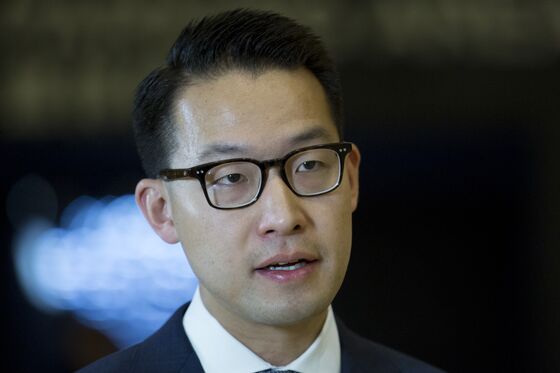 Danang Kemayan Jati, head of corporate communication of Lippo Karawaci, did not answer phone calls or respond to text messages seeking comment on Wednesday and Thursday. Mahkota Sentosa Utama is "shocked" by the arrests and will conduct internal investigations, according to a statement by its lawyer Denny Indrayana. It will also continue the construction of the project and fulfill its related obligations, Indrayana said in a separate statement Thursday. Lippo Group Executive Director John Riady referred the queries on Meikarta to the statement from Indrayana.
Lippo Group was founded by James' father, Indonesian tycoon Mochtar Riady, and has interests in property, health care, education, retail, television and financial services in Indonesia, Singapore and Hong Kong. PT Matahari Department Store, supermarket operator PT Matahari Putra Prima, PT Siloam International Hospitals and Internet and cable TV provider PT First Media are among the listed companies controlled by the group.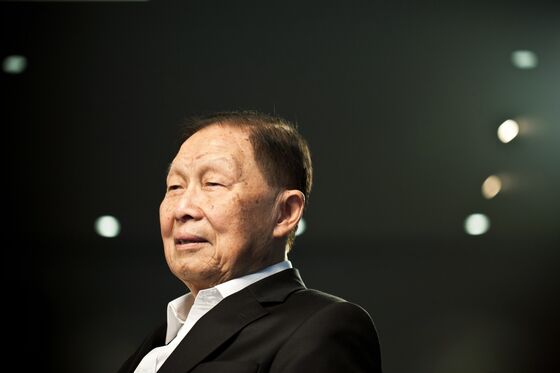 Shares of Lippo Cikarang dropped as much as 4.5 percent Thursday before closing unchanged. The shares retreated 18 percent this week. Its parent PT Lippo Karawaci lost 8.1 percent this week and its dollar bonds traded at record lows. S&P Global Ratings said Wednesday the bribery case may weaken Lippo Karawaci's liquidity which, along with cash flow, will be a key credit factor over the next 12 months.
"There is a question about corporate governance risks, but we are more concerned about Lippo Karawaci's liquidity and ability to refinance their debt," Kah Ling Chan, a Singapore-based analyst at S&P, said in a phone interview. "Granted, as market yields have increased, they will be under more pressures when doing it."
Lippo Karawaci's 2022 dollar notes fell 1.8 cents on the dollar to 74.7 cents as of 11:58 a.m. Hong Kong time, according to Bloomberg-compiled prices. Its 2026 bonds dropped 1.2 cents to 65.7 cents. Both securities yielded more than 14 percent.
Lippo Karawaci's liquidity buffer is thin and any adverse effects of the bribery case on the progress and cash flows of its largest property development project could further increase pressure, S&P said. While asset sales will provide interim liquidity relief, cash and funds from asset disposal might be enough to meet the debt-servicing needs only for the next year, it said.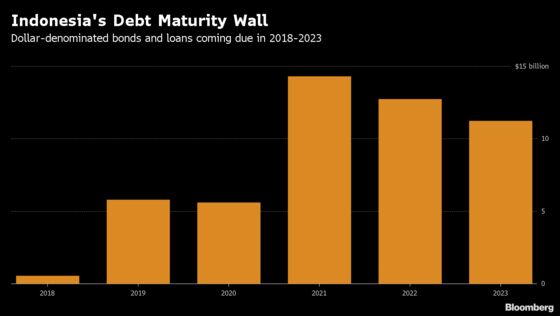 Lippo Karawaci and Lippo Cikarang didn't file first-half results by a July 31 deadline that was extended to Oct. 1.
"Lippo has no other ongoing property development besides Meikarta," Maybank Kim Eng analyst Aurellia Setiabudi wrote in research note Tuesday. "We expect a sizable negative impact towards its property pre-sales from these uncertainties on the development permit."
Lippo's Meikarta township, located along the high-speed train network connecting Jakarta and Bandung, the capital of West Java province, is among the largest projects being built in the region. The project will be close to industrial parks and factories of global carmakers such as Toyota Motor and Honda Motor Co.
Other parts of Lippo's business have been hurt by a slowdown in household spending. Net income of Matahari Department Store fell 5.6 percent last year, the first decline since at least 2010. Matahari Putra Prima, the supermarket business, reported a 1.2 trillion rupiah net loss, the first ever since Bloomberg started compiling the data in 1991.
Lippo may overcome the current crisis as several Indonesian property companies, which ran into trouble in early phase of their projects, have emerged relatively unscathed, according to Jemmy Paul, president director at Jakarta-based PT Sucorinvest Asset Management.
"The only difference this time around is the scale of Meikarta project itself," Paul said. "I think Lippo should focus on keeping this project alive, salvage whatever sales that they have secured and deliver them. This is not something that they can unwind midway."