Argentina Devalues Peso Faster While It Fights Reserves Drop
(Bloomberg) -- Argentina's central bank will allow a faster depreciation of its tightly-controlled peso, in the government's latest attempt to contain a hemorrhage of foreign reserves.
The central bank is ending a policy of "uniform devaluation" and allowing greater volatility, according to a central bank statement sent after hours Thursday. It also announced that it was raising repo rates to 24% up from 19% and create savings instruments with rates that exceed inflation, as it seeks to encourage Argentines to save and invest in pesos.
Authorities offered the peso at 76.95 per dollar on Friday morning, 0.9% weaker than the previous session and a quicker pace of devaluation than the 0.1% daily decline of the last three days. With a faster depreciation, the central bank also seeks to close the gap between the official peso and the unofficial rate, which closed Thursday at 147 per greenback, on top of giving incentives for exporters to sell their dollars and stabilize the exchange rate.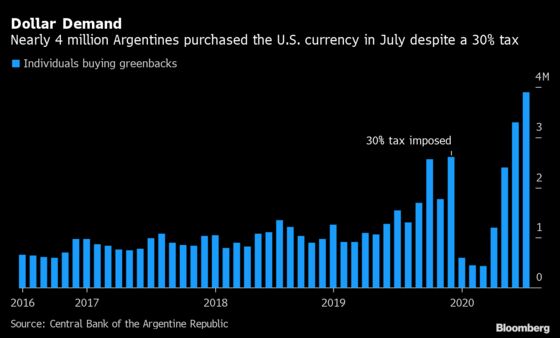 "Raising the repo rate and abandoning the crawling peg are key, because they attack a huge inconsistency" of having low peso interest rates while maintaining a stable peso depreciation, said Diego Chameides, chief economist at Banco Galicia in Buenos Aires. "That led to a situation where few dollars were sold in the market."
Argentina's dollar bonds fell early on Friday, pushing the yield spread over U.S. Treasuries wider by 28 basis points to 13.67 percentage points at 9:30 a.m. in New York.
Read More: Argentina Cuts Taxes on Exports Amid Falling Dollar Reserves
The administration of President Alberto Fernandez announced a slew of new measures Thursday, including cutting taxes on certain exports temporarily, as the central bank is losing reserves at a faster pace in recent days, in part stemming from savers withdrawing dollar deposits from the nation's banking system. Individual demand for greenbacks intensified after the government tightened capital controls Sept. 15.
Total reserves fell by $370 million on Wednesday to $41.4 billion, the lowest level since January 2017, while net reserves are estimated to be below $5 billion, according to JPMorgan Chase & Co.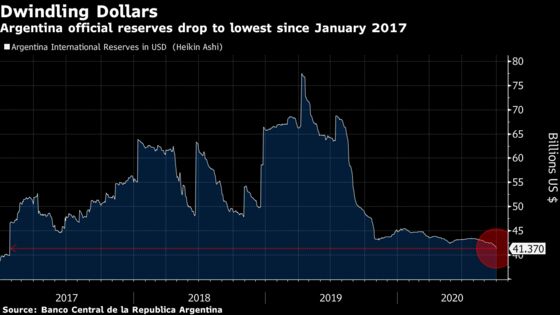 Yet the effort is unlikely to significantly change a situation where investors reject the peso due to Argentina's high inflation rate -- above 40% in annual terms -- and lack of economic policy credibility.
"We continue to see a major imbalance in the monetary system," JPMorgan's analysts Diego Pereira and Lucila Barbeito wrote in a report. "The lack of a consistent and comprehensive program will continue to exert pressures."
Read More: Analysts Skeptical Argentina Plan Will Halt Drop in Reserves
Argentina's previous administration started implementing capital controls a year ago amid a sell-off, and Fernandez has since dramatically increased them. Savers may only exchange pesos for $200 a month and must pay as much as 65% tax on top of the official exchange rate to buy the dollars. The central bank, known as BCRA, is also denying access to Argentines who receive Covid-19 financial aid directly or indirectly.
"This is the central bank reacting, late, to growing market pressure," Goldman Sachs senior economist Alberto Ramos said by telephone Thursday. "The core of the problem remains the heavy monetization of large fiscal deficits and poor policy credibility. Until that is fixed there's no hope of lasting currency and price stability."
ARGENTINA INSIGHT: Policy Course Will Be Key to Frame Outlook
As part of its measures, BCRA also said it will allow peso-renminbi trading for certain comex operations and futures contracts in yuan. Still, retail investors won't be able to trade in the Chinese currency and the monetary authority won't activate a swap the country has with Asian nation.
The central bank's monetary policy and currency controls will be a focal point in the government's negotiations with the International Monetary Fund for a new program. IMF staff are set to visit Argentine officials next week, and again in November to discuss their policies.
Government officials say they simply want to refinance the $44 billion the nation owes to the IMF from an expired program that failed, and it's not seeking additional funding.