Argentina Bonds Fall With Tighter Foreign-Exchange Controls
(Bloomberg) -- Argentine bonds fell after the government expanded restrictions on foreign exchange in an attempt to hold onto U.S. dollars as reserves dwindle.
Benchmark sovereign notes that were issued just a few days ago after the country's $65 billion restructuring lost about two cents on the dollar and debt from Argentine companies also declined. The peso weakened as much as 3% in the so-called blue-chip swap market that skirts government restrictions.
The selloff took hold after central bank chief Miguel Pesce announced measures late Tuesday designed to keep dollars in the country, including new taxes on purchases of greenbacks and a demand that companies with more than $1 million in monthly debt payments through March find a way to push back those obligations. It was a blow to investors just as the government seemed to be taking small steps in the direction of normalizing an economy suffering from high inflation, a weakening currency and three straight years of contraction.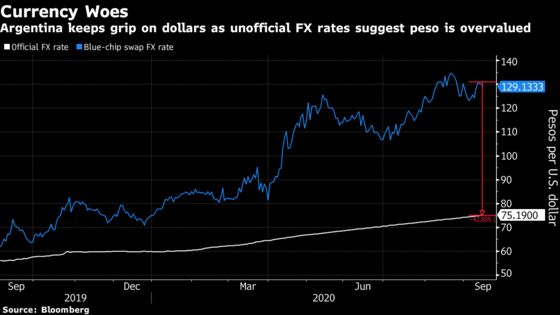 "It's a negative signal mostly because it shows desperation," said Alejo Costa, chief Argentina strategist at BTG Pactual in Buenos Aires. "When under pressure, they double down on restrictions and financial repression."
The measures announced by the government of President Alberto Fernandez are similar if not more restrictive than those implemented by Cristina Fernandez de Kirchner, currently his vice president, during her second mandate in the past decade.
Going forward, Argentines seeking to purchase dollars for savings will need to pay a new 35% tax on top of the previous 30% so-called solidarity tax, and they'll still be limited to buying no more than $200 a month. The extra levy will also affect credit-card purchases in dollars.
The central bank also asked the country's securities regulator to raise the minimum holding period on dollar assets received from abroad to 15 working days. The holding period, known locally as "parking," will no longer be required for sales of dollar-denominated assets that settle in local currency.
Click here to read more about Argentina's latest FX measures
Notes due in 2021 from state-controlled oil producer YPF SA tumbled 8.1 cents to 88.3 cents on the dollar. Sovereign bonds due in 2030 fell 2.1 cents to 46.1 cents, pushing yields up to 9.2%.
Fernandez's administration is seeking to reduce the gap between Argentina's official exchange rate -- where $1 fetches about 75 pesos -- and that on the black market, where a dollar costs about 130 pesos. The previous restrictions weren't enough to shore up dollar reserves, which Credit Suisse estimates have dwindled to a net $6 billion.
"These measures, in our view, will be insufficient to stabilize international reserves," Credit Suisse analysts including Daniel Chodos wrote in a note. "We would expect the spread between the ARS in the parallel markets and the official ARS to widen."
Argentines have been buying dollars at a record pace as the peso loses value almost every day, pushed by some anti-business government decisions, an economy in free fall due to the pandemic and lack of saving options. More than 3.9 million people, or almost 10% of the country's population, purchased greenbacks in July, according to recently published central bank data.
Argentina hasn't spoken to the International Monetary Fund about the new measures, the central bank head said. The country is seeking to renegotiate a $44 billion financing arrangement with the fund, and will ask to delay payments to the Fund through 2024, Economy Minister Martin Guzman said on Sunday.
ARGENTINA INSIGHT: Unsustainable Policy Risks Long-Term Growth
The announcement of more restrictions coincided with Fernandez sending to congress his first budget proposal, which included some rosy estimates for the crisis-prone economy. The Peronist government took over on Dec. 10 after beating the pro-business incumbent Mauricio Macri in general elections.