Macri Had His 'Best Week' of a Brutal Year, Pollster Says
(Bloomberg) -- Argentine President Mauricio Macri finally landed a string of victories this week after months of setbacks that pushed Argentina into recession.
"It's the best week of the year for Macri," Alejandro Catterberg, director of top polling firm Poliarquia in Buenos Aires, said in an interview Friday. Over the last 12 years, Poliarquia has correctly predicted the winner in the 118 political races -- presidential and congressional -- it's tracked.
Catterberg points to Macri's poll numbers leveling off. After falling much of this year, Macri's approval rating for October and September stood at 34 percent, according to Poliarquia data.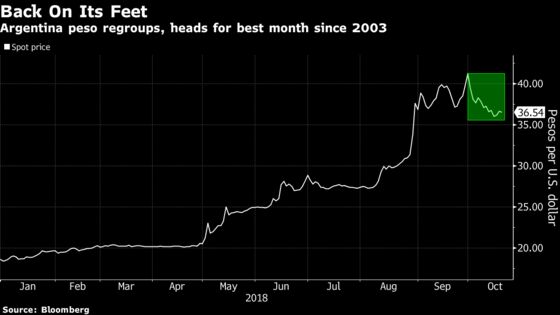 In Catterberg's view, this week's victories were:
The International Monetary Fund formally approved a $56 billion credit line to Macri's government Friday. That means the government will not need to tap international capital markets in 2018 and 2019
The peso has gained in three of the last four weeks, and it's on pace for its best month since 2003, up 12 percent in October against the dollar.
Brazilian presidential candidate Jair Bolsonaro, whose policies investors believe would bode well for Argentina, is on the verge of winning election on Sunday.
Argentina's 2019 budget, filled with unpopular spending cuts, passed through the lower house earlier this week en route to the Senate.